The features on municipal Web sites
Municipal officials indicate that incorporation of the Internet into civic affairs is widespread. Eighty percent reported that their city had a Web site. Seventy-one percent said their cities provide their staffs with both Internet and email access, and another 21% provide access to either the Internet or email. The most common reasons cited for a lack of Internet access in the small number of places where there was no official Internet account included budget constraints, lack of technical expertise, and lack of demand.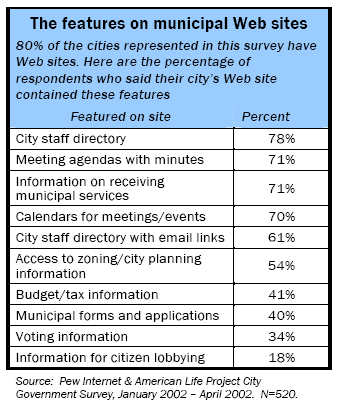 Local officials make considerable use of the online tools their cities provide them. Eighty-eight percent of respondents say that they use the Internet and/or email in the course of their official duties. Three-fourths of these online officials use the Internet in the course of their official duties at least once a week – 34% do so every day. Email is even more popular, with 90% of officials using it at least weekly, and 61% using it daily.
City officials are also increasingly likely to use the Web to do research that relate to their public jobs, by doing such things as accessing the Web sites of government agencies at all levels, downloading research reports, gathering statistics, and getting news, among other things. Fully 85% of officials say they use the Internet to do research, and 55% of them do such research at least on a weekly basis.
Issues of the digital divide
When asked to estimate the levels of Internet access in their cities, one in three online officials said they did not know. Sixty-five percent say that increasing Internet access to residents is an issue of some importance. Interestingly, increasing levels of Internet access is not more important to cities reporting low levels of access than it is in cities with better-connected residents. Rather, officials who could estimate levels of access in their cities as a whole found increasing access of greater importance than did officials did not know how many residents had access. This suggests that in cities where the digital divide is an active issue, officials may simply be more aware of access levels than are officials in cities where it is less of a priority.7