Among Indians, Modi and India's global influence are viewed favorably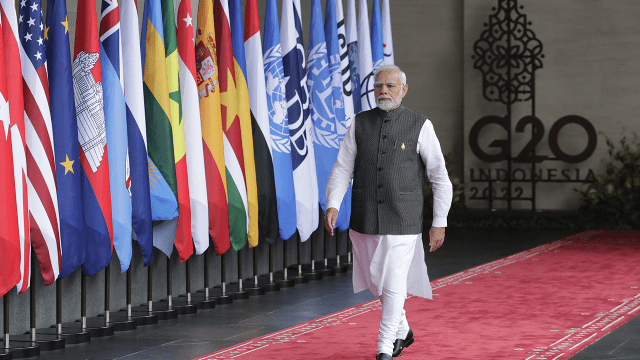 The Pew Research Center looked at views of India and its prime minister in 23 countries in North America, Europe, the Middle East, the Asia-Pacific region, sub-Saharan Africa and Latin America. The report also explores how Indians think their country compares to others in terms of international influence, and how they see their country's political leaders. This is the first year since 2019 that the Global Attitudes Survey has included countries from Africa and Latin America due to the coronavirus outbreak.
For data from countries outside of India and the U.S., this report draws on nationally representative surveys of 24,674 adults conducted from Feb. 20 to May 22, 2023. All surveys were conducted over the phone with adults in Canada, France, Germany, Greece, Italy, Japan, the Netherlands, South Korea, Spain, Sweden and the United Kingdom. Surveys were conducted face to face in Hungary, Poland, Indonesia, Israel, Kenya, Nigeria, South Africa, Argentina, Brazil and Mexico. In Australia, we used a mixed-mode probability-based online panel.
In India, we surveyed 2,611 Indian adults from March 25 to May 11, 2023. The survey was conducted face to face and is weighted to be representative of the Indian adult population by gender, age, education, region, urbanicity and other categories.
In the United States, we surveyed 3,576 U.S. adults from March 20 to 26, 2023. Everyone who took part in this survey is a member of the Center's American Trends Panel (ATP), an online survey panel that is recruited through national, random sampling of residential addresses. This way nearly all U.S. adults have a chance of selection. The survey is weighted to be representative of the U.S. adult population by gender, race, ethnicity, partisan affiliation, education and other categories. Read more about the ATP's methodology.
Here are the questions used for the report, along with responses, and the survey methodology.
Next week, political leaders are gathering in New Delhi for the annual G20 summit, the first ever to be held in South Asia. As international attention is drawn to India, a new Pew Research Center survey finds that views of India are generally positive across 23 countries.
A median of 46% of adults hold a favorable view of India, while a median of 34% have unfavorable views. In comparison, views of Indian Prime Minister Narendra Modi, which were collected in a subset of 12 countries, are more mixed: A 37% median say they have confidence in Modi, and a 40% median say they lack confidence in him.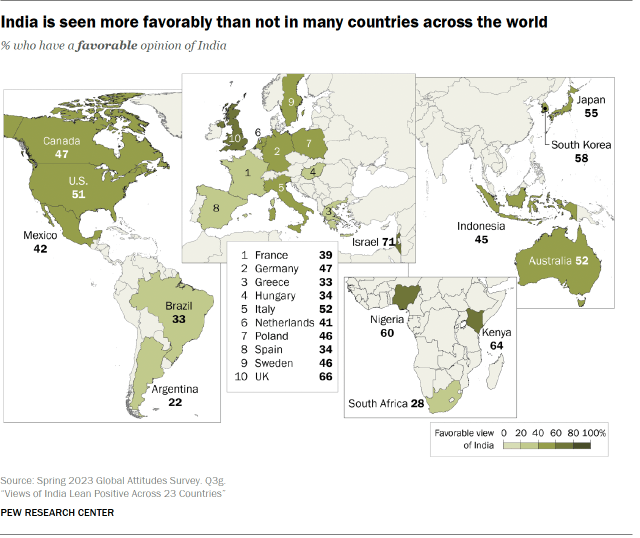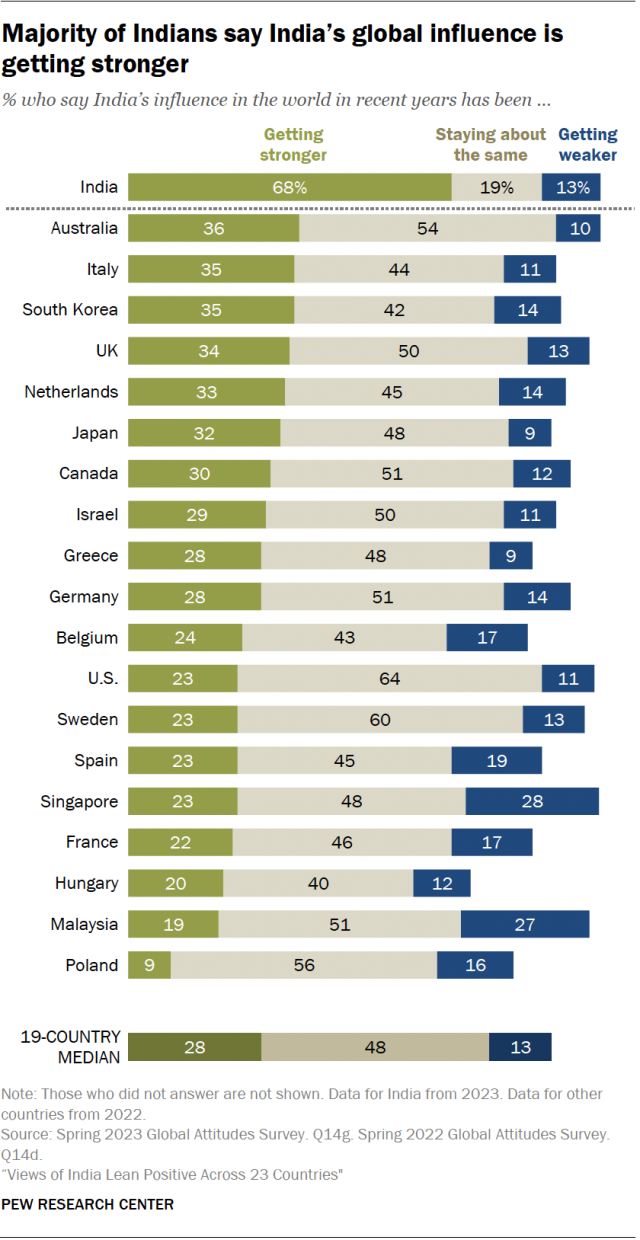 The new survey examines views of India and its political leaders in and outside of India, as well as Indians' views of other countries. The survey includes eight middle-income nations that Pew Research Center has not surveyed since 2019, before the outbreak of COVID-19, due to the challenges of conducting face-to-face interviews during the pandemic. Below are some of the key findings from the survey of 30,861 people in 24 countries, including India, conducted from Feb. 20 to May 22, 2023:
Indians are more likely than others to believe India's power is on the rise. Around seven-in-ten Indians believe their country has recently become more influential, compared with a median of 28% across 19 countries who said the same in 2022. In those 19 countries, respondents were most inclined to say that India's influence had not changed much in recent years (48% median), but only 19% of Indians agree with this view. Indians are just as likely as those in other countries to think India's influence has become weaker in recent years (13% vs. a 19-country median of 13%).
Modi is popular in India, but has more mixed reviews internationally. About eight-in-ten Indians (79%) have a favorable view of Modi, including a majority of 55% with a very favorable view. In comparison, a median of 37% in 12 countries, most of which are middle-income, report having confidence in Modi to make the right foreign policy choices. Kenyans are especially confident, with 60% saying they trust Modi to do the right thing regarding world affairs, while Argentines are particularly skeptical. Just 12% in Argentina have confidence in the Indian leader. At least one-in-ten in each of these countries also do not offer an opinion on Modi.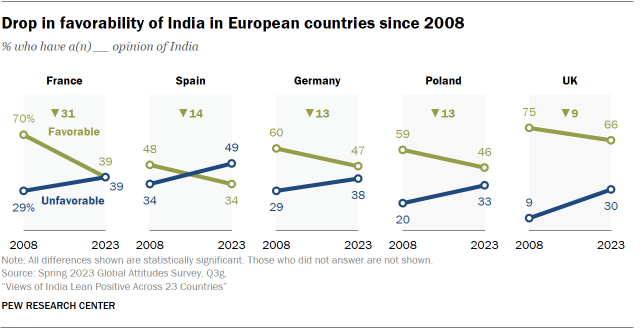 European attitudes toward India have turned more negative over time. Favorable views of India have declined by roughly 10 percentage points or more in all five of the European countries where past data is available. The greatest change is seen in France, where just 39% now have a favorable view of India, compared with 70% in 2008. Notably, French adults are also less likely than they were in 2008 to share an opinion on India. In all other countries, people are more or about as likely to offer an opinion on India as they were in 2008.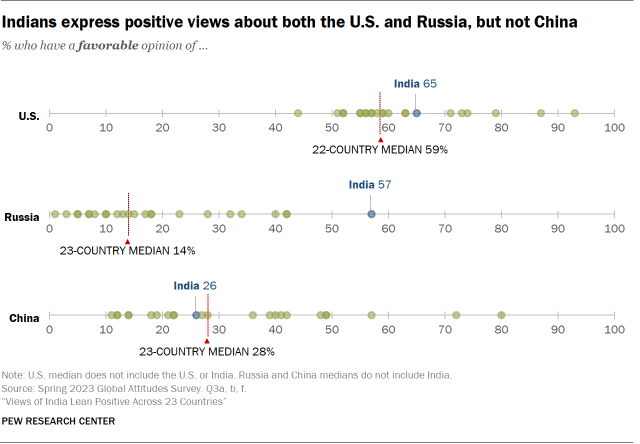 Indians stand out for their favorable views of Russia. Whereas a median of only 14% across 22 countries have a positive view of Russia, a 57% majority of Indians see Russia favorably. Indians are also the most likely to have confidence in Russian President Vladimir Putin to do the right thing regarding world affairs among all publics surveyed. Likewise, the United States is seen more favorably in India (65%) than in many other countries surveyed. When it comes to China, India stands out for the opposite reason: It is the only middle-income country surveyed where a majority has unfavorable views of China.
Jump to:
Negative attitudes toward Pakistan persist in India. Roughly three-quarters of Indian adults hold an unfavorable view of Pakistan. This includes 57% who have a very unfavorable opinion. Indians' views of Pakistan have consistently been unfavorable since the question was first asked in 2013, with the share holding an unfavorable view of the country never dipping below 60%.
Outside of India, substantial shares in many countries surveyed do not offer an opinion on India and on Modi. In the U.S., this includes 40% who report having never heard of Modi. Some groups are more inclined to provide a response to the two questions: This includes men and those with more education in several countries. Younger adults are also generally more likely to offer an opinion on India. Within India, a quarter or more do not offer an opinion of Indian National Congress (INC) leaders Mallikarjun Kharge and Adhir Ranjan Chowdhury.