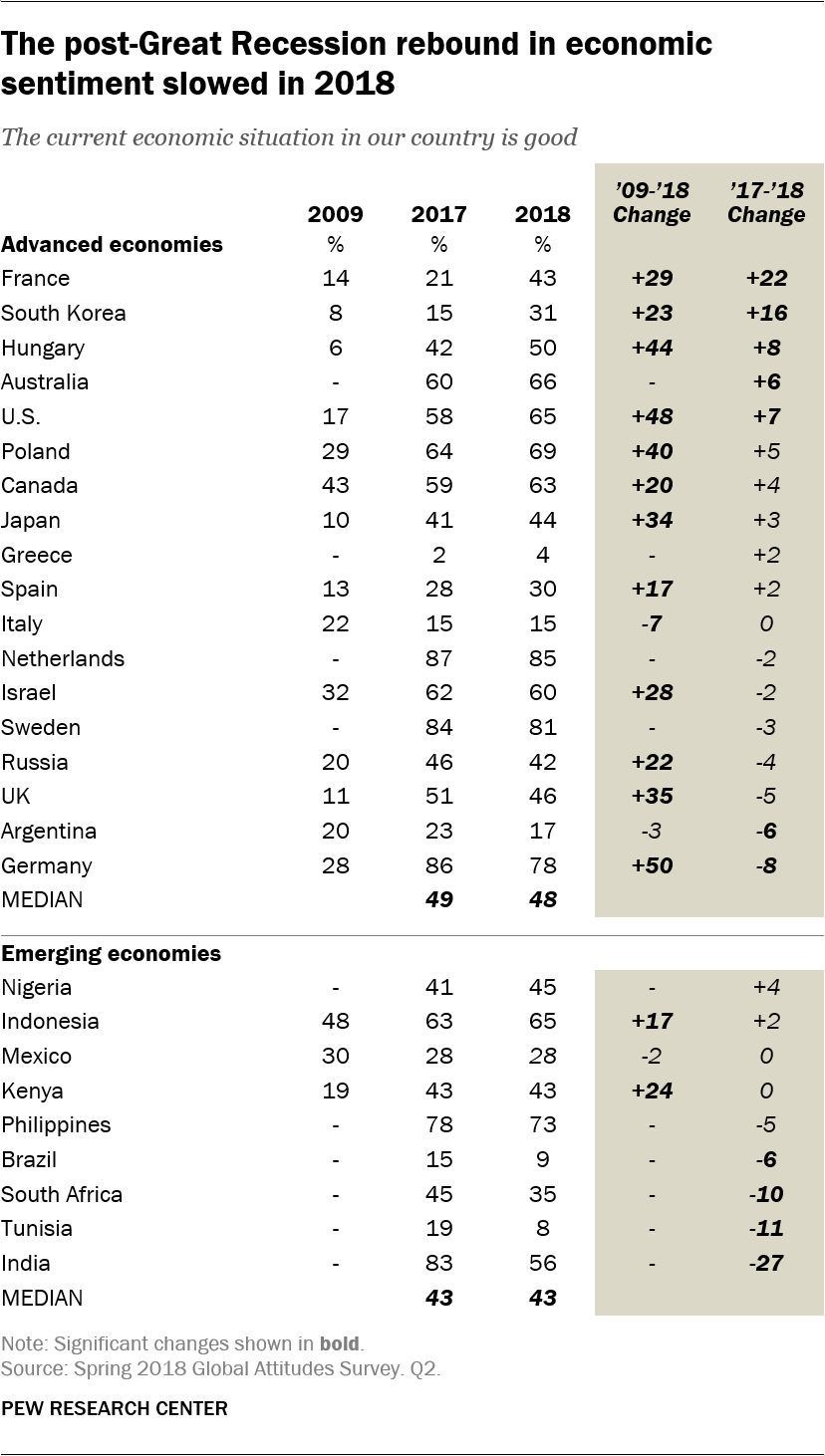 A decade ago, there was pervasive economic gloom in advanced economies. The mood then rebounded, and, by 2017, a median of 45% in 27 nations said their economy was good. Positive economic assessments have leveled off since then, but the improvement in public views of the economy have been dramatic over the course of the decade.
In Germany, 78% of adults today view economic conditions in their country as good, up 50 points since 2009. Approval of the economy is up 48 points in the U.S. and 35 points in the UK over the same period.
In only a few of the advanced economies surveyed is the public particularly down beat about economic conditions. In Greece, only 4% say their economy is good, essentially unchanged since the first Pew Research survey there in 2012. Just 15% in Italy give their economy a thumbs-up. Italy is the only advanced economy surveyed in both 2016 and 2018 where the economic mood has soured over that two-year period.
Long-term public opinion data on the economic mood in emerging markets is less comprehensive, but it suggests good feelings about the economy may have peaked in some cases. In India, 83% thought the economy was good in 2017; 56% think things are going well in 2018. In Nigeria, 57% gave their economy a good rating in 2015; 45% do so in 2018. In Mexico, 40% thought the economy was doing well in 2014, but just 28% say that in 2018.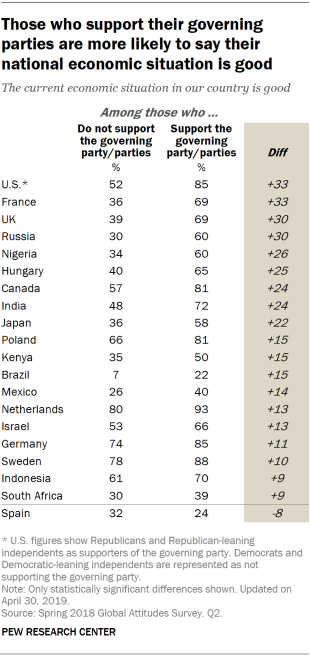 Current economic perceptions are often filtered through a partisan lens based on who is in power and the respondent's political leanings. The differences can be quite substantial.
In 20 of the 27 nations, those who support the governing party or parties are more likely than those who do not to say their country's current economic situation is good. This is the case in France, where 69% of those with a favorable opinion of the ruling party, En Marche, now known as La Republique En Marche, voice the view that the French economy is doing well, while 36% of those who do not back En Marche say economic conditions are good. The same dichotomy exists in Hungary: 65% of those who support Fidesz give their economy a thumbs-up, while 40% of those who do not support Fidesz think the economy is doing well. In Nigeria, 60% of supporters of All Progressives Congress, the ruling party, are pleased with economic conditions, but only 34% of those who do not back the party agree.