Rural Americans have made large gains in adopting digital technology over the past decade, but they generally remain less likely than urban or suburban adults to have home broadband or own a smartphone.
Roughly two-thirds of rural Americans (63%) say they have a broadband internet connection at home, up from about a third (35%) in 2007, according to a Pew Research Center survey conducted in early 2019. Rural Americans are now 12 percentage points less likely than Americans overall to have home broadband; in 2007, there was a 16-point gap between rural Americans (35%) and all U.S. adults (51%) on this question.
As is true for the nation as a whole, mobile technology use among rural adults has also risen rapidly, with the share of those owning smartphones and tablets increasing sharply since 2011. Ownership of desktop or laptop computers, by contrast, has only slightly risen since 2008.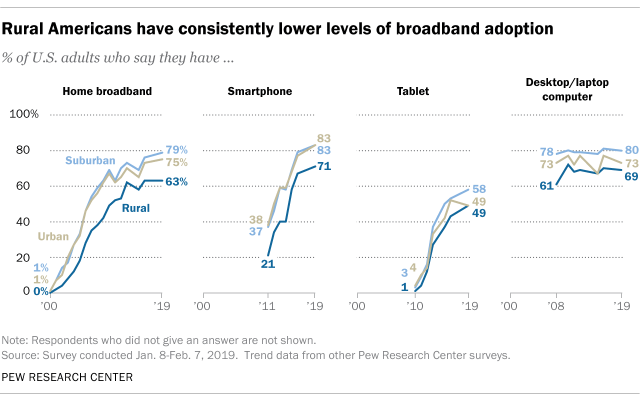 The gap between rural and urban adults has narrowed for some devices like traditional and tablet computers, but rural adults still remain less likely than suburban adults to own these technologies.
Rural adults are also less likely than suburban adults to have multiple devices or services that enable them to go online: About three-in-ten adults who live in rural communities (31%) report that they own a desktop or laptop computer, a smartphone, a home broadband connection and a tablet computer. By contrast, 43% of suburban adults own all four of these technologies.
Rural residents go online less frequently than their urban and suburban counterparts. Roughly three-quarters (76%) of adults who live in rural communities say they use the internet on at least a daily basis, compared with more than eight-in-ten of those in suburban (86%) or urban (83%) areas. Meanwhile, 15% of rural adults say they never go online, compared with less than one-in-ten of those who live in urban communities (9%) and those who live in the suburbs (6%).
In a separate survey the Center conducted in 2018, adults who live in rural areas were more likely to say that getting access to high-speed internet is a major problem in their local community: 24% say this, compared with 13% of urban adults and 9% of rural adults. In contrast, a majority of adults say that high-speed internet is not a major problem in their local community. Similar rates of concern about access to high-speed internet are shared by rural adults in both lower- and higher-income households, as well as by those with various levels of educational attainment.
These comparably low levels of adoption among rural residents may be due to a unique feature of rural life. Even though rural areas are more wired today than in the past, other research shows that substantial segments of rural America still lack the infrastructure needed for high-speed internet, and what access these areas do have tends to be slower than that of nonrural areas. The Federal Communications Commission is on Phase II of its Connect America Fund, a plan to expand broadband access and mobile coverage for rural communities in the U.S.
Despite lower levels of technology ownership and use, only 36% of rural adults say the government should provide subsidies to help low-income Americans purchase high-speed home internet service, compared with 50% of urban residents and 43% of suburbanites, according to a 2017 Pew Research Center survey.
Note: This is an update of a post originally published May 19, 2017. The full methodology and topline for this post can be found here (PDF).
Read the other posts in our digital divide series: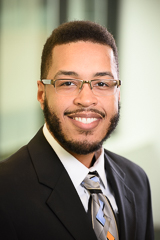 Andrew Perrin
is a research analyst focusing on internet and technology at Pew Research Center.