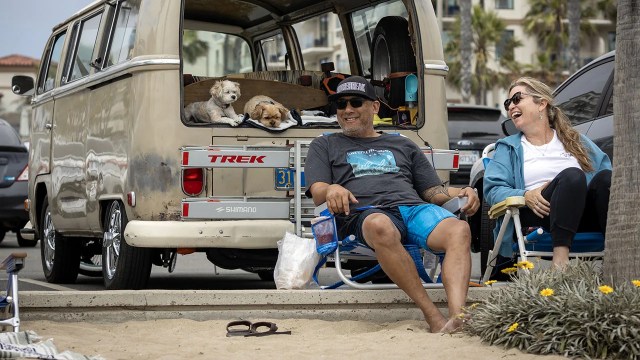 Employed, married Americans spend an average of 27 hours on leisure activities in a typical week. But the amount of time they spend on leisure – and the types of leisure activities they do – differ significantly by gender.
This Pew Research Center analysis is based on data from the American Time Use Survey, conducted by the Bureau of Labor Statistics (BLS) and covering the 2021-2022 period. Microdata used in this analysis comes from the Integrated Public Use Microdata Series (IPUMS) provided by the University of Minnesota.
The analysis focuses on employed, married adults between the ages of 25 t0 64. Weekly estimates of time in provision of care, housework and leisure activities are based on daily reported time, multiplied by seven. Estimates of work hours are based on respondents' reports of usual work hours per week.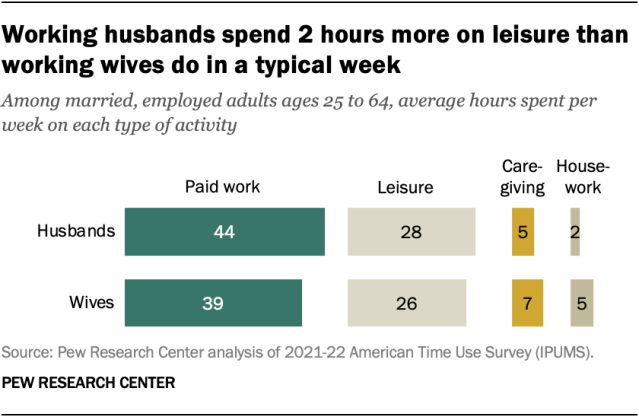 Among employed U.S. adults who are ages 25 to 64 and married, husbands spend about 28 hours per week on leisure. Wives spend about 26 hours on it, according to a Pew Research Center analysis of time-use data from the Bureau of Labor Statistics.
For employed, married adults, leisure time must be balanced against the demands of paid work, housework and other responsibilities. Our previous research has shown that in opposite-sex marriages where both spouses work, these tasks are not divided equally, and that husbands tend to spend more time on leisure than wives do.
We were interested in learning more about the gender gap in leisure time among employed, married adults. We used government data to look more closely at it, including among those with children.
Gender gap in leisure remains among parents
Among employed, married adults in the United States, parents spend less time on leisure than those without children under 18 do.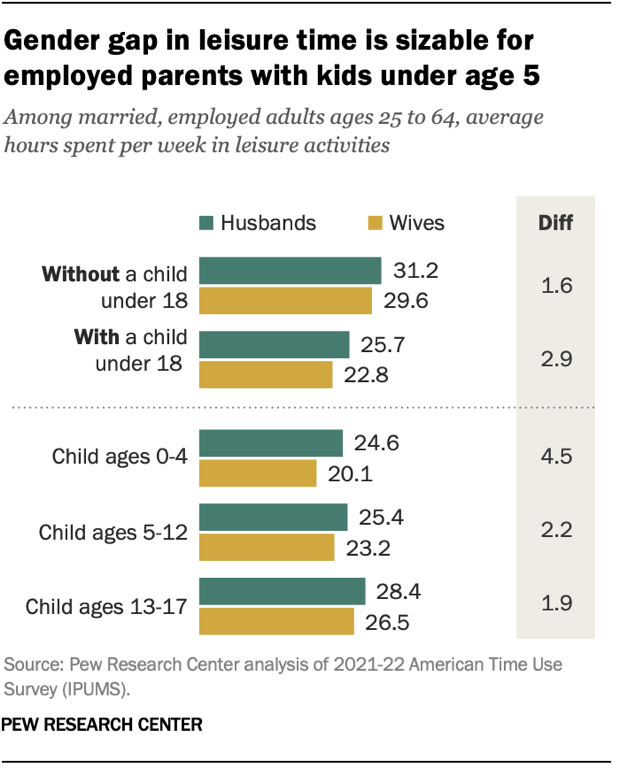 Employed, married adults who have children younger than 18 spend, on average, 24.5 hours per week on leisure activities. This compares with 30.4 hours per week among working, married adults without children.
There's a gender gap among both groups, but leisure differences are large for adults with children. For married, employed adults who have at least one child younger than 18 living at home, husbands spend an average of 25.7 hours per week on leisure. This compares with 22.8 hours among wives – a difference of 2.9 hours. For those without a child under 18, the gap is only 1.6 hours.
The gender gap is widest for those raising very young children. Employed husbands who have children under the age of 5 at home spend 24.6 hours on leisure per week, compared with 20.1 hours among employed wives with children in that age range – a difference of 4.5 hours. By contrast, working husbands whose youngest child is ages 13 to 17 spend 1.9 more hours on leisure activities per week than working wives whose youngest child is that age.
Leisure activities differ by gender
Employed husbands and wives also differ in how they spend their leisure time.
Relaxing and watching TV are the most popular leisure activities for both working husbands and wives. (Relaxing includes activities such as laying around, taking breaks at work or thinking.) But working husbands spend more time on both of these activities than working wives do. For example, in a typical week, working husbands spend an average of 15.5 hours watching TV, compared with 13.2 hours for working wives.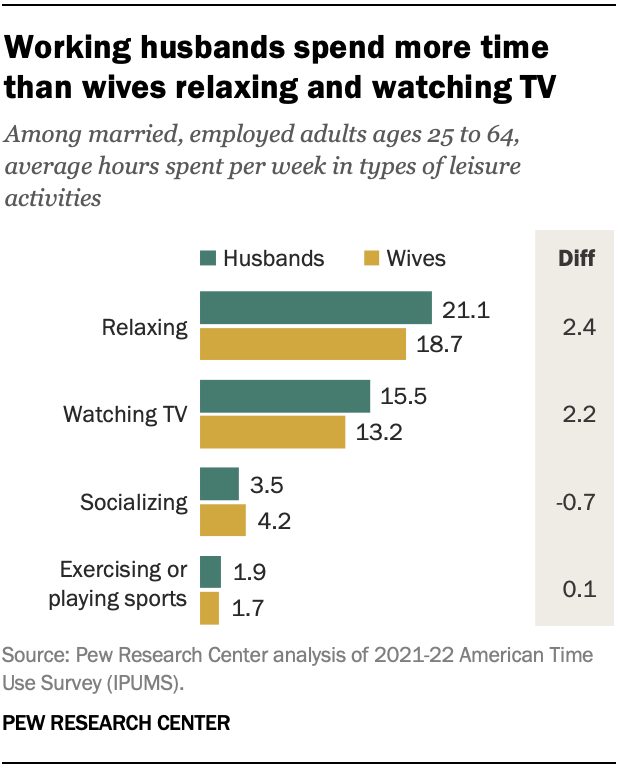 Working wives, in turn, spend slightly more time than working husbands on socializing and communicating, such as meeting friends and spending time with family. However, the difference is less than an hour per week: 4.2 hours for wives and 3.5 hours for husbands.
When it comes to playing sports or physical activity, working husbands and wives spend similar amounts of time on these types of things each week.
Separate from leisure activities, employed wives spend slightly more time on sleep than employed husbands do – an average of 60.3 hours per week, compared with 58.8 hours for men.
For married adults with children and those without children under 18 alike, relaxing and watching TV are the most common leisure activities. But parents spend less time on each of these activities than those without children do. For example, working parents spend 12.2 hours per week watching TV, on average, compared with 16.9 hours for working Americans without children under 18 at home.
Working parents spend more time than adults without children on socializing and communicating activities (4.1 vs. 3.4 hours per week, respectively).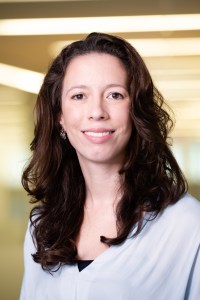 Carolina Aragão
is a research associate focusing on social and demographic trends at Pew Research Center.