Many Americans have endless digital tools at their fingertips. And each device, site or app collects, analyzes and uses personal data. What does this mean for Americans now that so much of their day-to-day life leaves a digital footprint?
Pew Research Center has a long record of studying Americans' views of privacy and their personal data, as well as their online habits. This study sought to understand how people think about each of these things – and what, if anything, they do to manage their privacy online. (Read the full report.)
This survey was conducted among 5,101 U.S. adults from May 15 to 21, 2023. Everyone who took part in the survey is a member of the Center's American Trends Panel (ATP), an online survey panel that is recruited through national, random sampling of residential addresses. This way nearly all U.S. adults have a chance of selection. The survey is weighted to be representative of the U.S. adult population by gender, race and ethnicity, partisan affiliation, education and other categories. Read more about the ATP's methodology.
Here are the questions used for this analysis, along with responses, and its methodology.
Here are nine takeaways from a new Pew Research Center report exploring these issues.
Americans, especially Republicans, are growing more concerned about how the government uses the data it collects about them. About seven-in-ten U.S. adults (71%) say they are very or somewhat concerned about this, up from 64% in 2019. Concern has grown among Republicans and those who lean Republican but has held steady among Democrats and Democratic leaners.
Many Americans have little trust in companies to use AI responsibly. Among those who have heard of artificial intelligence (AI):
70% say they have little to no trust in companies to make responsible decisions about how they use AI in their products.
81% say the information companies collect will be used in ways that people are not comfortable with
80% say it will be used in ways that were not originally intended.
Still, 62% of those who have heard of AI say companies using it to analyze personal details could make life easier.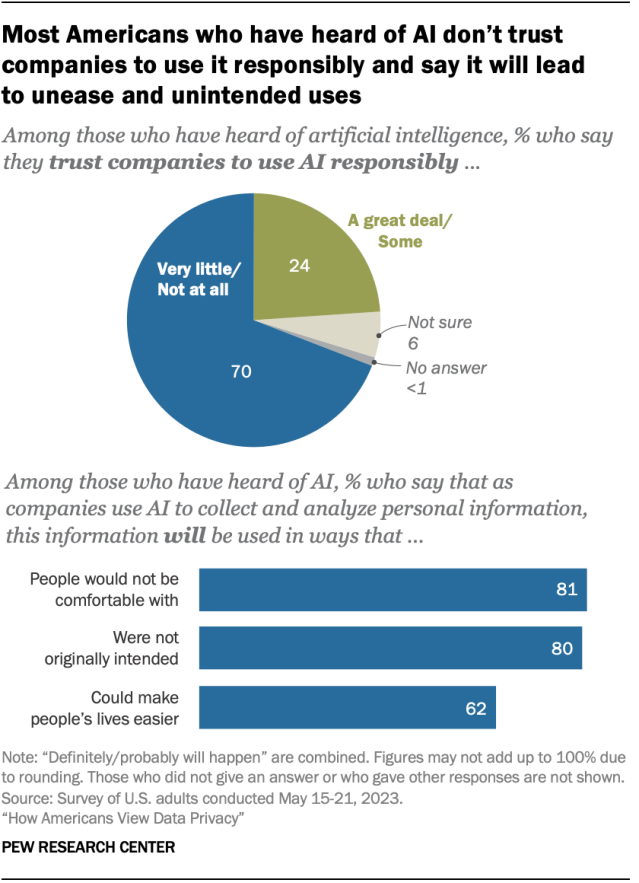 Many trust themselves to make the right decisions but are skeptical their actions matter. About eight-in-ten (78%) say they trust themselves to make the right decisions to protect their personal information.
But a majority (61%) are skeptical anything they do will make much difference. And only about one-in-five are confident that those with access to their personal information will treat it responsibly.
More than half of Americans (56%) say they always, almost always or often click "agree" without reading privacy policies. Another 22% say they do this sometimes and 18% rarely or never do this.
People are also largely skeptical that privacy policies do what they're intended to do. About six-in-ten Americans (61%) think they're ineffective at explaining how companies use people's data.
About seven-in-ten Americans are overwhelmed by the number of passwords they have to remember. And nearly half (45%) report feeling anxious about whether their passwords are strong and secure.
Despite these concerns, only half of adults say they typically choose passwords that are more secure, even if they are harder to remember. A slightly smaller share (46%) opts for passwords that are easier to remember, even if they are less secure.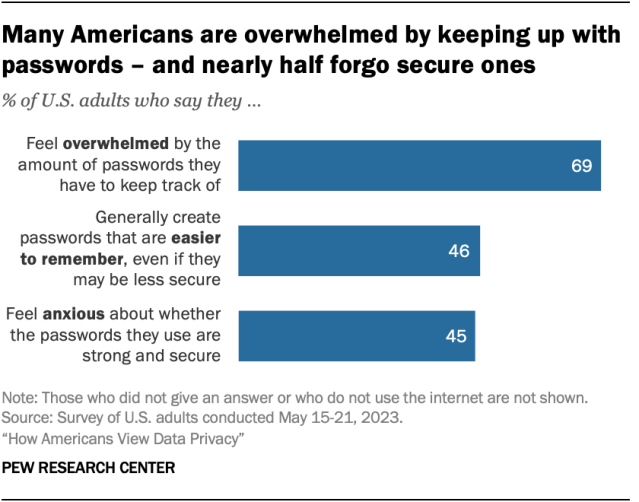 Some Americans have been targets of data breaches and hacking.
In the past 12 months: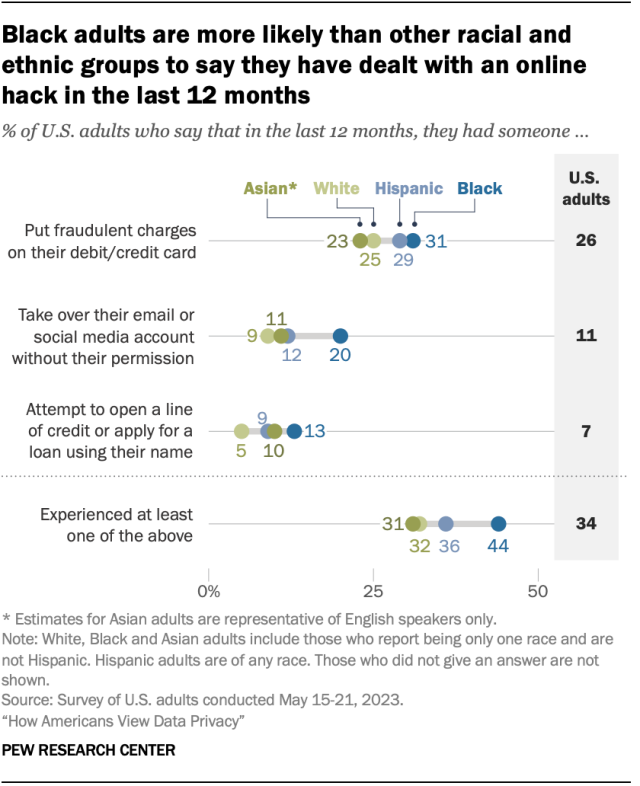 Roughly a quarter of Americans (26%) say someone put fraudulent charges on their debit or credit card.
A smaller share say they have had someone take over their email or social media account without their permission (11%).
And 7% have had someone attempt to open a line of credit or apply for a loan using their name.
In total, 34% of Americans have experienced at least one of these issues in the past year. However, Black Americans are more likely than members of other racial and ethnic groups to have faced this.
Americans have little faith that social media executives will protect user privacy. Some 77% of Americans have little or no trust in leaders of social media companies to publicly admit mistakes and take responsibility for data misuse.
They are no more optimistic about the government reining them in: 71% have little to no trust that tech leaders will be held accountable for their missteps.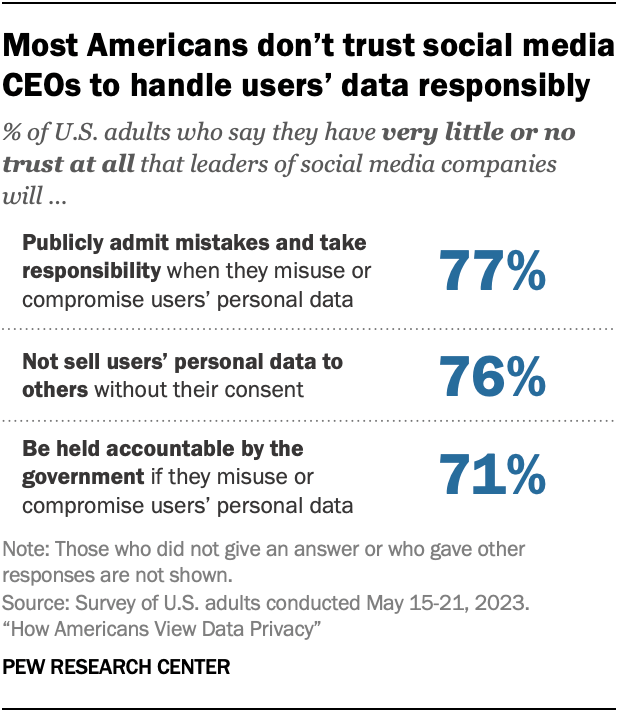 There is bipartisan support for more regulation to protect personal information. Some 78% of Democrats and 68% of Republicans think there should be more government regulation of what companies can do with customers' personal information.
These findings are largely similar to our 2019 survey, which also showed strong support for increased regulation across parties.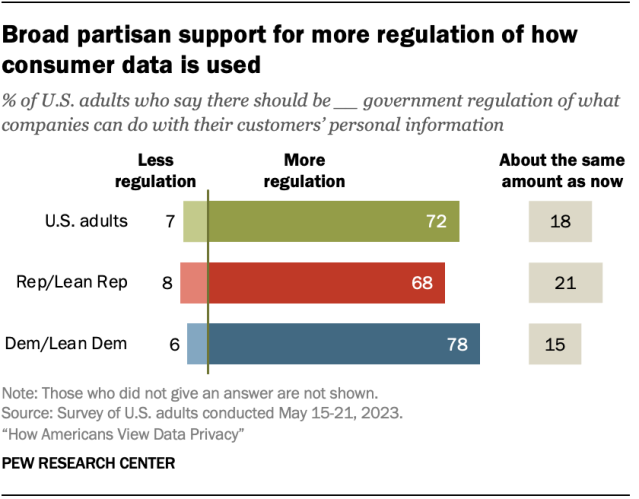 About nine-in-ten Americans (89%) are concerned about social media sites knowing personal information about children. Most Americans are also concerned about advertisers using data about children's online activities to target ads to them (85%) and online games tracking children on the internet (84%).
When it comes to who should be responsible for protecting kids' online privacy, a vast majority (85%) says parents should bear a great deal of the responsibility. Still, roughly six-in-ten say the same about technology companies, and just under half believe the government should have a great deal of responsibility.
Note: Here are the questions used for this analysis, along with responses, and its methodology.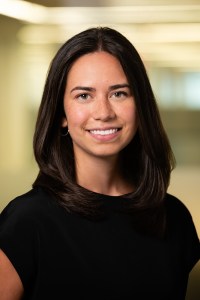 Michelle Faverio
is a research analyst focusing on internet and technology research at Pew Research Center.