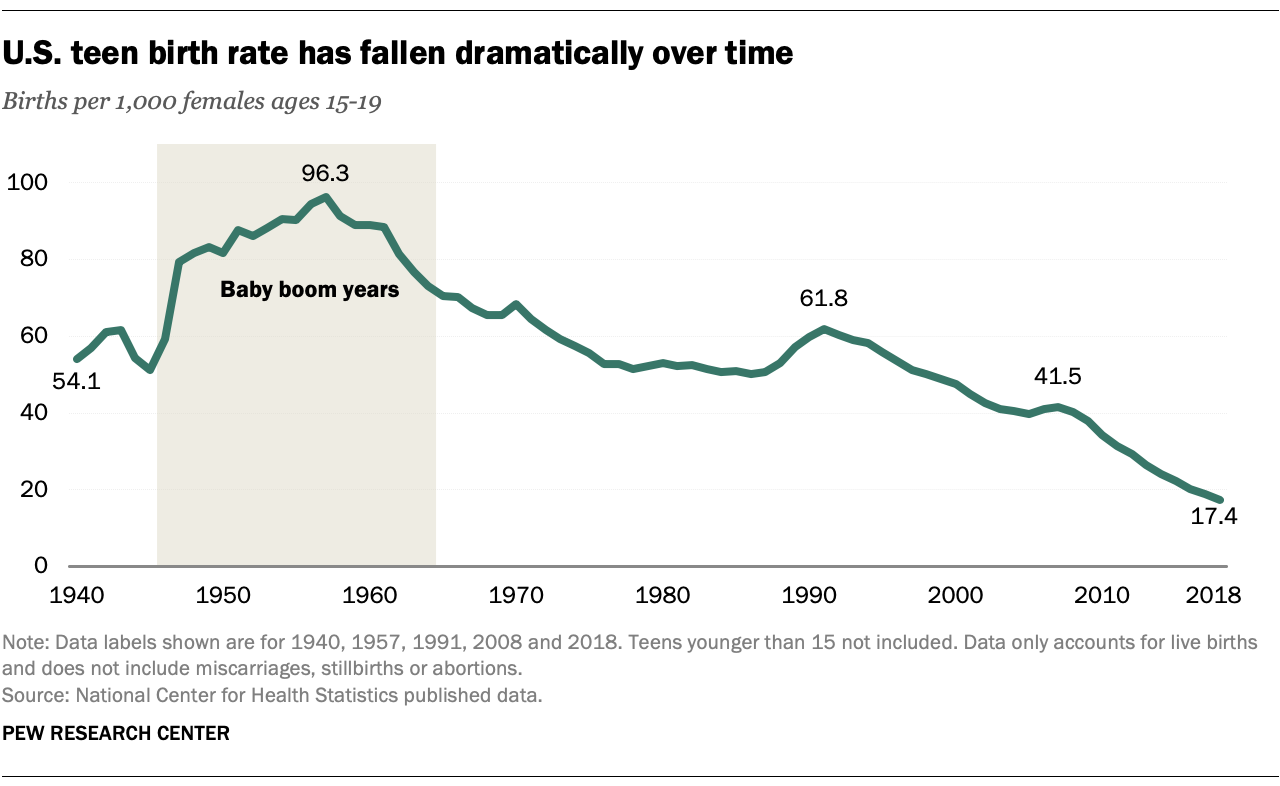 The teen birth rate in the United States is at a record low, dropping below 18 births per 1,000 girls and women ages 15 to 19 for the first time since the government began regularly collecting data on this group, according to a Pew Research Center analysis of newly released data from the National Center for Health Statistics.
In 2018, the birth rate among 15- to 19-year-old girls and women was less than half of what it had been in 2008 (41.5 births per 1,000). Asians and Pacific Islanders led the way over this time, followed by Hispanics, with teen birth rate declines of 74% and 65%, respectively. Rates for white and black teens fell by more than 50% over the past decade as well.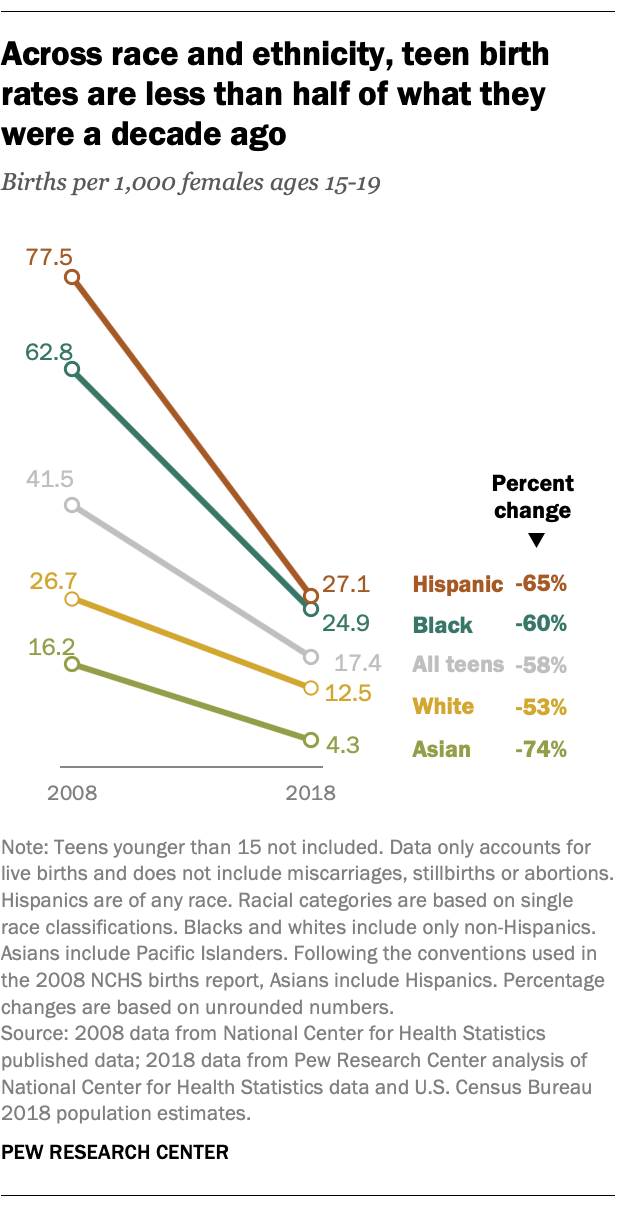 Despite rapid declines in teen birth rates across all major racial and ethnic groups, disparities persist. In 2018, the birth rate for Hispanic and black teens ages 15 to 19 was almost double the rate among white teens and more than five times as high as the rate among Asians and Pacific Islanders.
Teen birth rates peaked at 96.3 per 1,000 in 1957, the midst of the baby boom, after having risen dramatically following the end of World War II. But the composition of teen mothers has changed drastically. Back in 1960, most teen mothers – an estimated 85% – were married. Today, the majority of teen births (89%) are to unmarried mothers.
The teen birth rate has been on a steep decline since the early 1990s, and that trend accelerated after the onset of the Great Recession in 2007.
What's behind the recent trends?
One possible factor is the economy: A Pew Research Center analysis in 2011 tied the declining birth rate to the economic downturn of the recession. But this trend in teen birth rates has continued even as the economy has recovered, and birth rates for teens have fallen faster than they have for all women ages 15 to 44 (58% and 4% declines, respectively, from 2008 to 2018).
What else may be contributing to the decline in teen birth rates? Less sex, use of more effective contraception and more information about pregnancy prevention.
For one thing, there has been a significant decline in the percentage of never-married girls and women ages 15 to 19 who report that they have ever had sex, from 51% in 1988 to 42% in 2011-15, according to National Survey of Family Growth data. Among those teens who have had sex, the majority (81% of females and 84% of males) used a contraceptive method the first time they had sex. This figure has not changed significantly for males, but it has increased for females since 2002, when 74.5% used contraception.
Moreover, the share of teens using some form of highly effective contraceptive methods is increasing. The share of sexually active female teens who have used emergency contraception (e.g., the morning-after pill) rose from 8% in 2002 to 23% in 2011-15. And a Centers for Disease Control and Prevention analysis of the roughly 600,000 low-income teens who used the Title X National Family Planning Program for contraception found that the use of long-acting reversible contraceptives such as IUDs and implants – which are considered more effective than other means of contraception – rose from 0.4% in 2005 to 7.1% by 2013.
Pregnancy prevention programs and messages directed toward teens may also have played a role. A 2014 Brookings report found that reality TV shows that follow the struggles of teen mothers like the MTV programs 16 and Pregnant and Teen Mom may have contributed to up to a third of the decline in teen births from June 2009, when they began airing, through the end of 2010.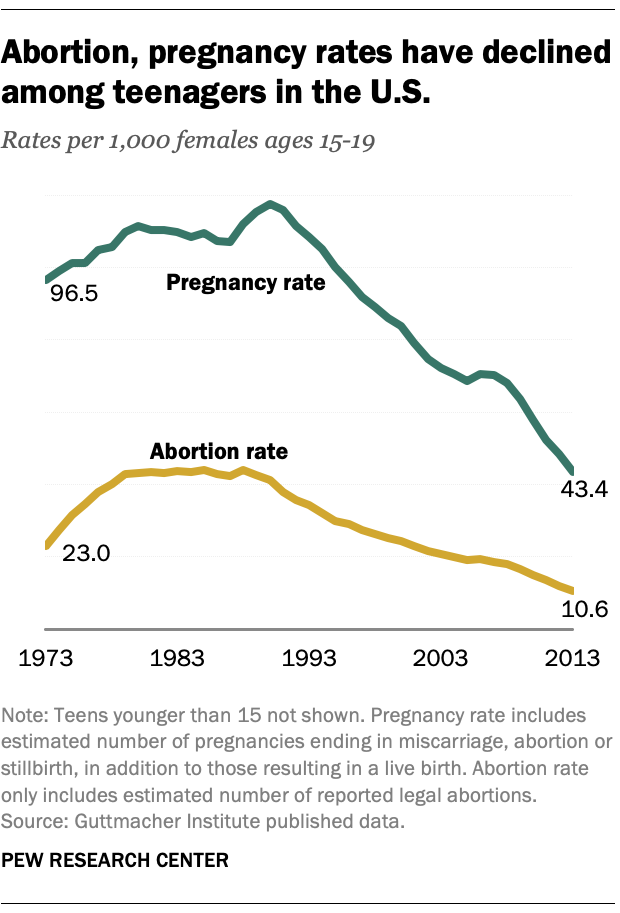 It's worth noting that birth rate figures only include live births. In 2013, the estimated teen pregnancy rate – which reflects not only live births, but also miscarriages, stillbirths and abortions – was 43.4 pregnancies per 1,000 females ages 15 to 19. This marks a steep decline, especially since 1990, when the pregnancy rate among teens peaked at 117.6.
The abortion rate among 15- to 19-year-old girls and women has also been declining, from 44.0 per 1,000 in 1988 to 10.6 in 2013. Of the roughly 450,000 pregnancies among teens in 2013, about 61% are estimated to have ended in live births, 24% in abortions and 15% in miscarriages or stillbirths.
Note: This is an update of a post originally published on April 21, 2014, which was written by Eileen Patten, a former research analyst at Pew Research Center.

Gretchen Livingston
is a former senior researcher focusing on fertility and family demographics at Pew Research Center.
Deja Thomas
is a former research assistant focusing on social and demographic trends.