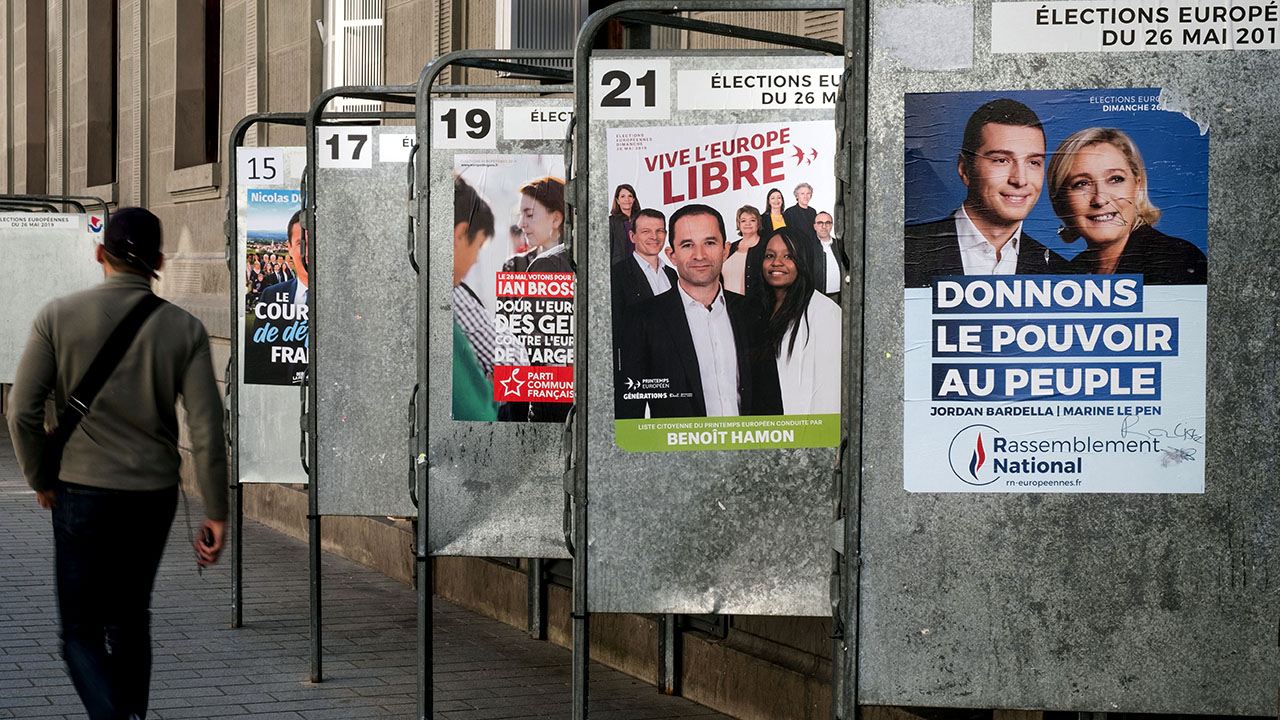 Many Europeans will head to the polls later this month to elect a new European Parliament, the directly elected legislative body of the European Union. The voting comes as the EU faces a number of challenges, including the United Kingdom's planned departure from the bloc and public concerns about the economy, refugees and other issues. Some observers have suggested that this year's elections could serve as a referendum on the entire European experiment.
Here's an overview of how Europeans in 10 EU member states feel about key institutions and issues ahead of the elections, based on data from Pew Research Center's spring 2018 Global Attitudes Survey:
1People tend to have a more favorable opinion of the EU than of the European Parliament. Across 10 surveyed EU countries, a median of 62% see the EU favorably, compared with a median of 50% who see the European Parliament favorably. The UK and Greece stand out for their negative assessments of both. In two of the EU's biggest countries – France and Germany – majorities have a favorable view of the EU, but views of the European Parliament are divided.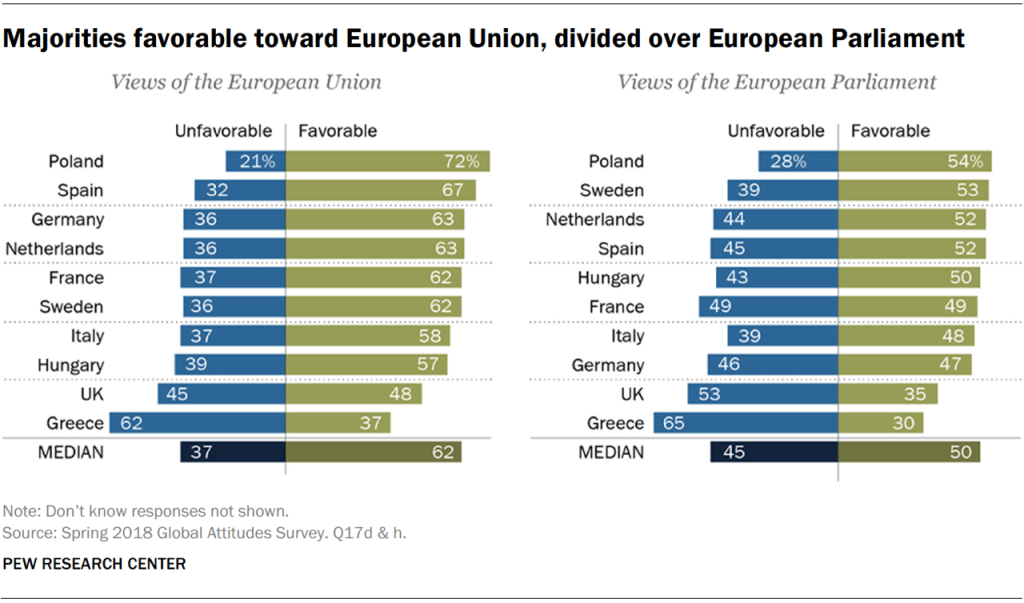 2Fewer than half of people say they approve of the way the EU is handling economic issues, Brexit and refugees. A median of 40% across the 10 nations say they approve of the way the EU is handling European economic issues. A similar share (median of 38%) approves of the way the bloc is handling Brexit, and a median of just 23% approve of its handling of the refugee issue.
While this year's elections are expected to focus on continental concerns, national-level issues could still play an important role: The Center's survey data shows widespread public concerns on issues ranging from the personal finances to migration to the functioning of democracy.
3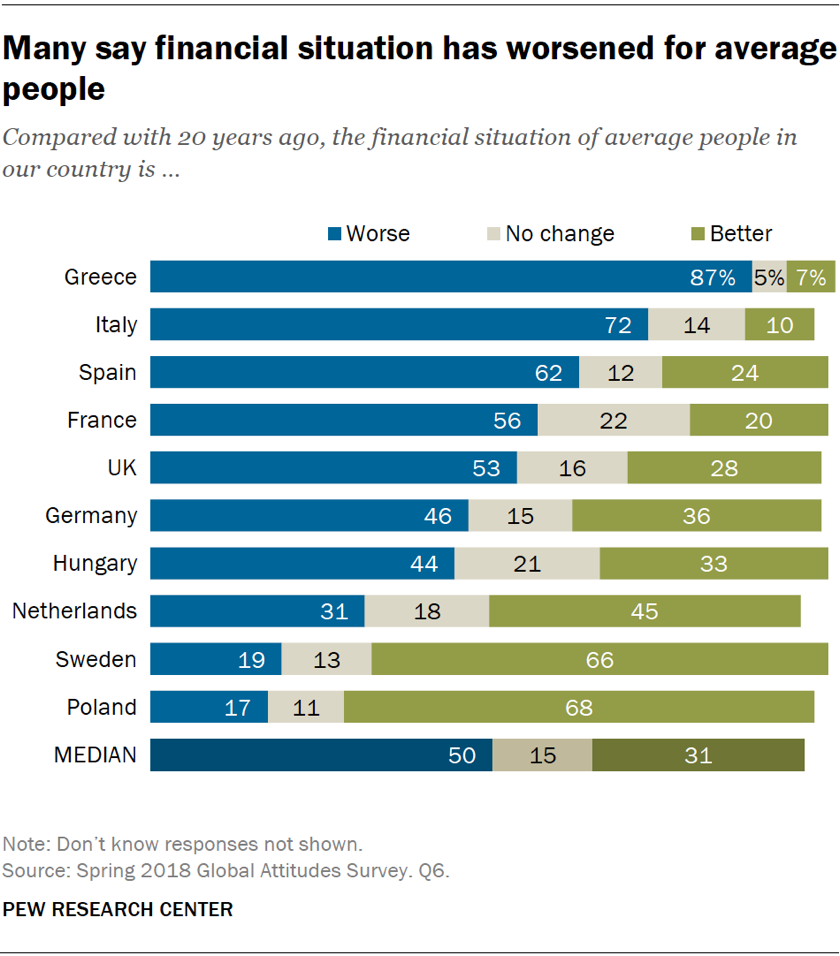 Substantial shares across Europe believe the financial situation of average people in their country is worse today compared with 20 years ago. Two notable exceptions are Poland and Sweden, where about two-thirds believe people are generally better off financially.
4Majorities in most of the nations polled say that when children in their country grow up, they will be worse off financially than their parents. Eight-in-ten adults in France hold this view, as do around seven-in-ten in Spain (72%) and the UK (70%).
5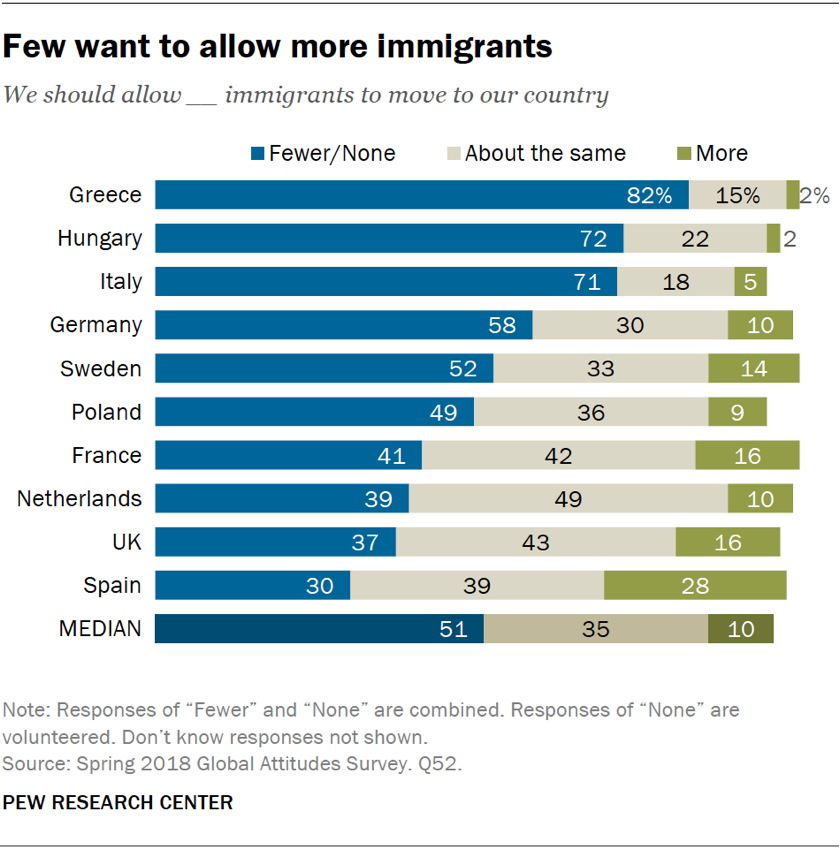 There is little support across European publics to allow more immigrants to move to their countries. A median of 51% across the European countries surveyed believe their country should allow fewer immigrants into their country or none at all. Publics are somewhat divided over the impact of immigration on crime, but a median of 57% say that immigration increases the risk of terrorism and a median of 51% say immigrants want to remain distinct from the broader society. However, a median of 53% say that migrants make the country stronger through their hard work and talents.
6Europeans feel disaffected with the performance of democracy in their countries. In six of the 10 European countries surveyed, half or more say they are dissatisfied with how democracy is working in their nation.
Kat Devlin
is a former research associate focusing on global attitudes at Pew Research Center.