Much of Pew Research Center's work focuses on public opinion, in the United States and around the world. But we also track economic and demographic data to see how society is changing. When we launched Fact Tank two years ago, the goal was to expand on the center's data storytelling by bringing context to the day's major news events and policy discussions.
To celebrate Fact Tank's anniversary, here's a roundup of our most-visited blog posts over the past year, along with some insights into the editorial thinking behind them:

1Despite recent shootings, Chicago nowhere near U.S. 'murder capital'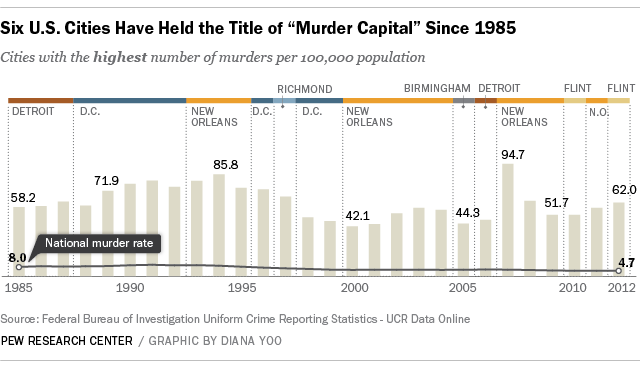 Last summer, Chicago had 82 shootings in one weekend, prompting a flurry of news articles about gun violence in America. We noticed that Chicago was often cited as the "murder capital" of the U.S., but we weren't sure whether that was true.
Looking at FBI data, we saw that Chicago did indeed have the highest total number of murders of any U.S. city in 2012. But when adjusting for population, it was far from being the U.S. "murder capital." Topping that list was Flint, Mich., with 62 murders per 100,000 people.
2The GOP's Millennial problem runs deep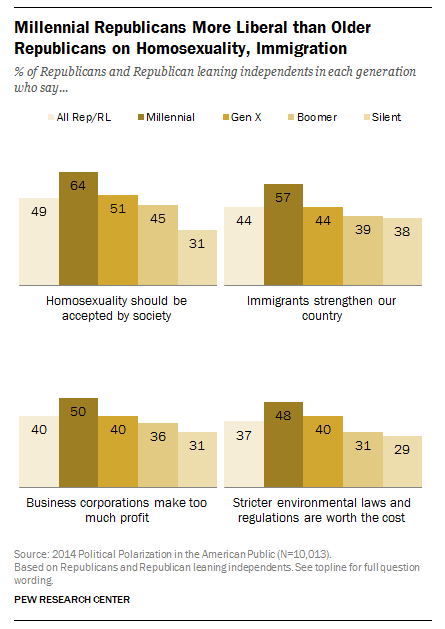 It's no secret that the Republican Party has had trouble appealing to younger voters. Ahead of the 2014 midterm elections, we mined the data from our extensive 2014 political survey and found that even GOP Millennials express significantly less-conservative values than their elders, particularly on social issues such as same-sex marriage and immigration.
Among the roughly one-third of Millennials who affiliate with or lean toward the Republican Party, just 31% have a mix of political values that are right-of-center, while about half (51%) take a mix of liberal and conservative positions and 18% have consistently or mostly liberal views.
3
Generation X: America's neglected 'middle child'
Speaking of Millennials, it seems not a week goes by without this generation making news headlines. It made some of us wonder: Why don't we ever read about Generation X?
We decided to take a look at what makes this generation distinct. But it turns out there may be a reason Gen Xers are so often missing from the front pages: they don't really stand out.
More often than not, Gen Xers' views and characteristics – such as their racial and ethnic makeup, religious affiliation, educational attainment, patriotism, and attitudes on government, immigration and same-sex marriage – fall somewhere in between those of two much larger generations, the Millennials and Baby Boomers.
4From Germany to Mexico: How America's source of immigrants has changed over a century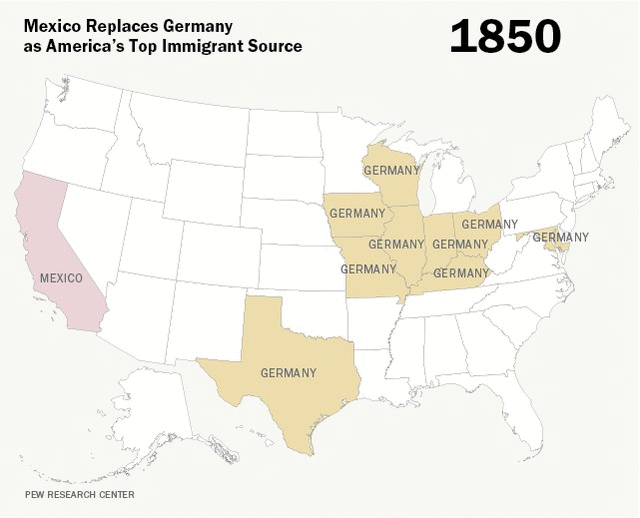 America is still a melting pot, with more than 40 million foreign-born immigrants living inside its borders. But immigrants today – largely from Mexico – are very different from the last large wave of newcomers who arrived around the turn of the 20th century, when Germany dominated as the country sending the most immigrants to many U.S. states.
Last year, 10 states and Washington, D.C., raised the state-level minimum wage, while four states approved minimum-wage increases in their ballot measures.
We crunched the data from the Bureau of Labor Statistics and discovered that minimum-wage workers are disproportionately young, mostly white and largely part-time. They're also employed in the industries and occupations you might expect: Nearly 47% worked in food-preparation and serving-related occupations in 2013.
65 facts about illegal immigration in the U.S.
Last fall, President Obama took executive action to provide deportation relief to millions of unauthorized immigrants – after his administration deported a record number of people in fiscal 2013.
But who would be affected by the executive action? We rounded up our data on the U.S. unauthorized immigrant population to help answer this question.
7High-income Americans pay most income taxes, but enough to be 'fair'?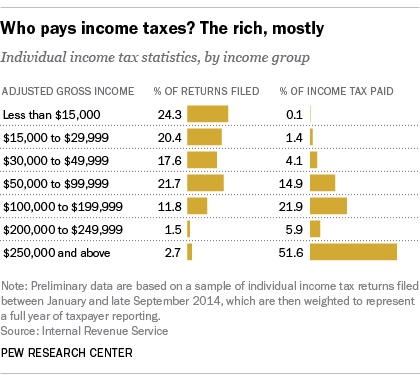 Our polls show that Americans don't much like the federal tax system, but it's not necessarily because of how much they pay in taxes – it's more likely because they feel corporations and wealthy people don't pay their fair share.
It turns out that, in 2013, people with adjusted gross incomes above $250,000 paid nearly half (48.9%) of the U.S.'s total individual income taxes, though they accounted for only 2.4% of all returns filed.
8How do Americans stand out from the rest of the world?
The differences between the U.S. and other nations have long been a subject of fascination and study for social scientists. Our global surveys continue to show that Americans stand out for their belief in individualism and the value of hard work.
And when compared with other wealthy nations, Americans also stand out for their religiosity and optimism. One widely shared chart (above) shows that Americans are much more likely than their wealthy counterparts to say that religion plays a very important role in their lives.
9The best and worst cities for women looking to marry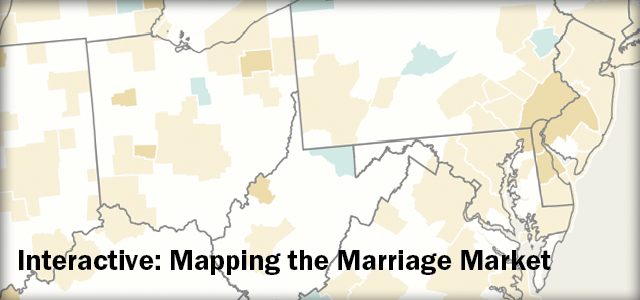 A rising share of Americans today have never been married. And never-married women place a great deal of importance on finding a mate with a steady job.
For those in the "marriage market," location matters. There are pronounced differences in the ratio between men and women living in the largest U.S. metro areas, especially when it comes to singles who have an attractive characteristic: a job.
10Millennials projected to overtake Baby Boomers as America's largest generation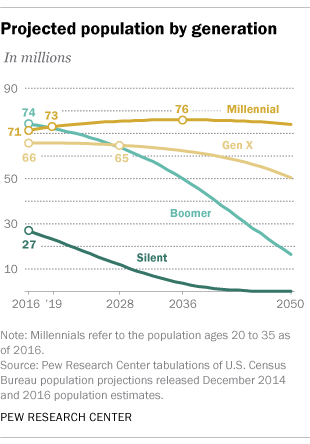 We keep close watch on Census Bureau projections, and we discovered an interesting nugget: The Baby Boomers are losing one of their best-known claims to fame – being the largest American generation – to the Millennials.
In 2019, Millennials are expected to surpass the Baby Boomer generation in population size. There will be a projected 73 million Millennials in that year, compared with 72 million Baby Boomers. But that's not all: The Millennial population is projected to grow until 2036 as young immigrants expand their ranks, while Boomers will shrink in size as deaths outpace arrivals of older immigrants.
Note: Item No. 10 in this post was updated on April 20, 2018, to reflect the Center's revised definition of the Millennial generation and the updated year in which Millennials will be the largest generation.