Continued fighting in Ukraine between government forces and Russian-backed rebels has catalyzed fears in nearby countries that Russian President Vladimir Putin may soon try to further expand his reach. While the U.S. and European Union have voiced concerns about Russian interference in the Baltic states of Lithuania, Latvia and Estonia, paramilitary groups have begun forming throughout Poland to thwart what some Poles see as impending attacks. Within this atmosphere of anxiety, Poles view both Russia and its leader in an increasingly negative light compared with the years leading up to the Ukraine crisis.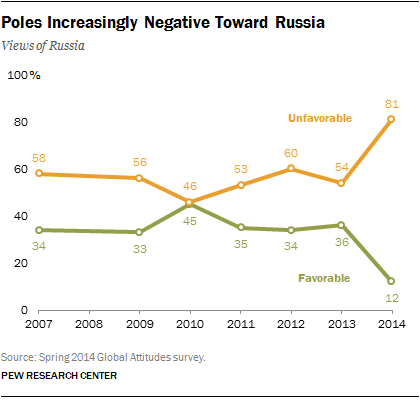 Polish animosity for Russia surged in Pew Research Center's spring 2014 survey, with 81% saying they had an unfavorable view of the Russian Federation, up 27 percentage points since 2013. (Nearly all interviews in Poland were conducted after Putin's statement on March 18, 2014, regarding the Russian annexation of Crimea.) These negative feelings permeate Polish society regardless of age, gender, education, employment status, urbanity or ideology.
Opinions of Putin have also soured since 2012. In 2014, just 8% of Poles said they had confidence in Putin to do the right thing regarding world affairs. Fully 86% lacked confidence in the Russian leader, including more than half (57%) who said they had no confidence in him at all. While still negative, views of Putin in 2012 were slightly better, with 19% expressing confidence and 74% with not too much or no confidence in the Russian leader.
Kat Devlin
is a former research associate focusing on global attitudes at Pew Research Center.