After years of grim news for the news industry marked by seemingly endless rounds of staff cutbacks, it's not unusual for those thinking about a career in journalism or veterans trying to find a new job to look at options in related fields. One field outpacing journalism both in sheer numbers and in salary growth is public relations.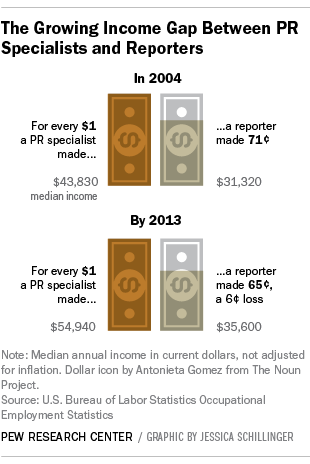 The salary gap between public relations specialists and news reporters has widened over the past decade – to almost $20,000 a year, according to 2013 U.S. Bureau of Labor Statistics data analyzed by the Pew Research Center. At the same time, the public relations field has expanded to a degree that these specialists now outnumber reporters by nearly 5 to 1 (BLS data include part-time and full-time employees, but not self-employed.)
In 2013, according to BLS data, public relations specialists earned a median annual income of $54,940 compared with $35,600 for reporters. In other words, journalists on average earn just 65% of what those in public relations earn. That is a greater income gap than in 2004 when journalists were paid 71 cents of every dollar earned by those in public relations ($43,830 versus $31,320).
Most of that widening has come from salary growth in the public relations industry during a time when salary increases in the journalism field did not even keep up with inflation.
As the salary gap has grown, so too has the gap between the number of employees working in each field. There were 4.6 public relations specialists for every reporter in 2013, according to the BLS data. That is down slightly from the 5.3 to 1 ratio in 2009 but is considerably higher than the 3.2 to 1 margin that existed a decade ago, in 2004.
Over this 10-year stretch, the number of reporters decreased from 52,550 to 43,630, a 17% loss according to the BLS data. In contrast, the number of public relations specialists during this timeframe grew by 22%, from 166,210 to 202,530.
The data from the Bureau of Labor Statistics' Occupational Employment Statistics department are based on surveys of employers. The analyzed data includes the categories of "Reporters and Correspondents" and "Public Relations Specialists." It does not include editors or public relations managers.
The disparity is also reflected in a new survey from the University of Georgia that found that new graduates starting a career in public relations earn, on average, $35,000 a year – about $5,000 more than those starting out at daily newspapers and $6,000 more than those working in television
One factor behind the increase in public relations jobs has been digital technology. Agencies and companies are now able to reach out directly to the public in any number of ways and are hiring public relations specialists to help them do so. There are ways this can be helpful to the public, such as being able to offer updates in real time about virus outbreaks and background reports on the risks associated with it. One concern it raises when looked at alongside the shrinking newsrooms is the greater difficulty reporters have vetting information from outside sources.
In their 2010 book, "The Death and Life of American Journalism," Robert McChesney and John Nichols wrote, "As editorial staffs shrink, there is less ability for news media to interrogate and counter the claims in press releases."
A Pew Research Center report on 2012 presidential election coverage documented how journalists in that campaign often functioned as megaphones for political partisans, relaying assertions rather than contextualizing them. Noting a "sharp rise in the influence of partisan voices, spin doctors and surrogates in shaping what the public is told about the biography and the character of the candidates," the report connected that phenomenon to the "diminishing reportorial resources in newsrooms."
And a 2014 study of health-related coverage by JAMA Internal Medicine found that half of the stories examined relied on a single source or failed to disclose conflicts of interest from sources. The report concluded that "for certain information, reliance on a news release is appropriate. However, journalists are expected to independently vet claims."