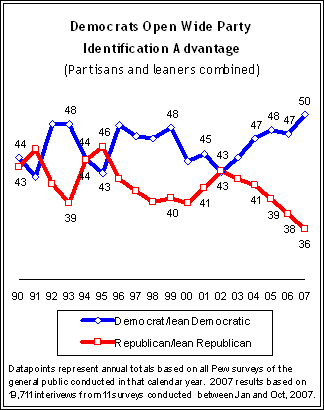 Earlier this year, the Pew Research Center for the People & the Press reported that the Democratic Party had opened a wide advantage in party identification. (See "Political Landscape More Favorable to Democrats," March 22, 2007.) A new analysis shows that the Democratic lead is virtually undiminished.
Based on nearly 20,000 interviews conducted between January and October of this year, half of Americans say they think of themselves as Democrats (33%) or as independents who lean toward the Democratic Party (17%). By comparison, just 36% identify as Republicans (25%) or as independents who lean to the GOP (11%).
This 14-point advantage is the largest in nearly 20 years of surveys by the Pew Research Center for the People & the Press. Just five years ago, in 2002, the balance of partisanship was even, with 43% identifying with or leaning toward each political party.
George W. Bush's historically low job approval ratings are undoubtedly a factor in these trends. In the current survey, the proportion of Americans who disapprove of his performance in office has reached a new high of 63%, more than twice as many as the number who approve (30%). In October 2003, a year ahead of the 2004 elections, 50% approved of Bush's job performance while 42% disapproved.
Bush's low job approval ratings pose a unique problem for Republican candidates this year; no incumbent president has been this unpopular nationally in recent history.
The public has also been growing increasingly dissatisfied with the state of the nation. The share of Americans who offer a negative assessment of the way things are going in the country has risen from 56% to 66% over the past four years, while just 28% currently express satisfaction. While low, these satisfaction ratings are not unprecedented. In October of 1995, just 23% of Americans were satisfied with the state of the nation, and satisfaction levels stayed below 30% through the 1996 election cycle. Despite this sour public mood, Bill Clinton was able to win reelection handily, in part based on his strong job approval ratings throughout this period.