By Amy Mitchell
What does the typical local television newscast look like? It is very local. It also does a good job of covering the everyday goings-on in a community. But too many of the stories are generic, simplistic and reactive. Too often, one is left with little feel for the texture of the communities. While some stations are quite good – and enjoying ratings success, the majority of stations are in the middle. Here is the picture of the average station:
Coverage is local: Nearly six in ten stories are relevant to the community.
Stations are reactive: Almost half of all stories focus on typical daily occurrences.
Crime is a part of the picture but only a part: 22% of stories focused on everyday crimes, such as shootings or robberies.
Stories were by and large easily understood from the text and visuals. Only 2% were sensational scandal stories.
Stories are short: Seventy percent were a minute or less. Only 16% were longer than two minutes.
Sourcing is thin: Only one quarter (25%) of all stories has multiple sources. Of the stories examined in this study, 43 percent were 30 seconds or shorter, while fewer than one in seven stories were longer than 2 minutes.

The most common story length was 22 seconds, and the median, or midway point, was 35 seconds. Shorter stories do not necessarily lead to covering more of the community. Some stations doing many short stories covered only a limited range of subjects. Across the board, stations avoided stories 45 to 60 seconds long. They produced either short-and-quick takes on an issue or longer, in-depth examinations. But, far more often than not the choice is the simple and quick
Focus and Enterprise
The stories that fill the airwaves of local news are largely reactive and require little planning or knowledge from the reporter. To be blunt, they tend to be mundane. This study, which excluded everyday sports and weather segments, found that almost half of all news stories focused on regular occurrences in a day, divided pretty evenly between everyday incidents such as accidents, power outages or problems with the roadway (24%) and everyday crime (22%). Local TV news today evokes the familiar to such an extent that the broadcasts seem formulaic and indistinguishable. Contrary to some critics, every story is not crafted into a sensational tale. Scandal and sensation drove the focus of only 2% of the stories in the study. And, only 3% contained highly sensational audio or visual material. Not surprisingly, the emphasis on the everyday allows reporters to exercise little enterprise in their reporting. Nearly half, 45%, of all stories studied were based on prearranged or staged events such as press conferences, trials and Wall Street reports. Of those staged events, the station had no reporter on-scene in 20% of the coverage. Feeds from other cities or from other news organizations made up another 15% of all stories. Live, up-to-the-minute coverage, a trademark of local television, requires a somewhat higher level of enterprise. That value was evident here as a quarter of all stories were responses to spontaneous events. Still, only 8% of stories stemmed from true initiative by the station or reporter – investigations, interviews with substantive questioning or news series.
Sourcing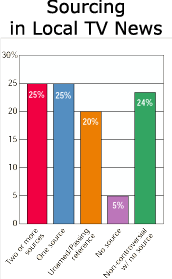 Given the reality of the marketplace where expert sources may not be readily available for interviews on-camera, stations did a good job of at least reflecting credentialed viewpoints. Nearly half of the disputable stories where credible sourcing mattered included on-camera remarks from the principle players. Although only 2% actually had an expert source on camera, 60% referred to an expert source in the text. More troubling than the credibility of sources, the study found that local television stories do not have much sourcing at all. Only one quarter of the stories included multiple sources. As many as one in five used only a vague or unnamed source, suggesting that some journalists seem to be working under the impression that commonplace subjects – unlike policy issues or crime allegations – do not require much in the way of sourcing. A full 30% of the stories had no source at all. In most of those cases, the station had produced a story that was so straightforward and non-controversial that a source was deemed unnecessary.
Balance and Community Relevance
Similar to the lack of multiple sources, in stories that involved disputable information, viewers were just as likely to get only one side as to get a mix of views. In almost two-thirds of all stories, stations chose to produce low-conflict pieces which do not demand the inclusion of several points of view. This finding is especially troubling, since past research of both network and print news has suggested that above all else, journalists make sure that they at least offer a balance of views. Perhaps the brightest light for local television is its success in connecting the broadcast to the community. Nearly six in ten stories were in some way relevant to the community, not including the everyday coverage of weather and sports which certainly is extremely relevant. Only one in six stories (16%) were not connected to the community in any way.