Overview of responses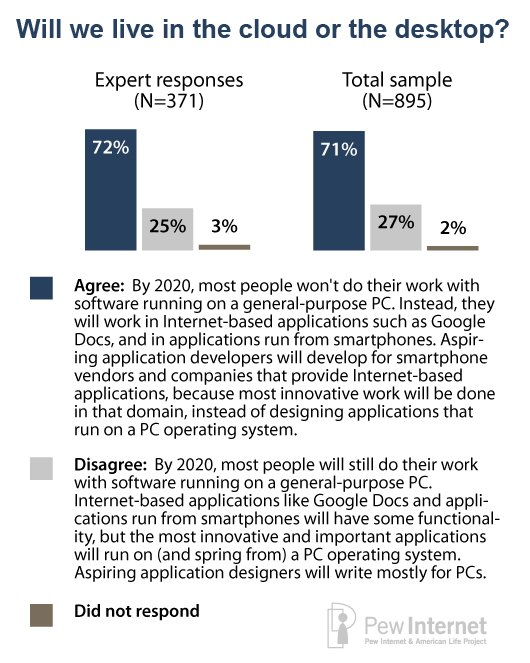 Background
"Cloud" is a metaphor for the internet. "Cloud computing" is a phrase that is being used today to describe the act of storing, accessing, and sharing data, applications, and computing power in cyberspace. The concepts of storing data in remote locations or renting the use of tools only when you need them are not new, but the positives and negatives of cloud computing present users with unprecedented opportunities and challenges.
A September 2008 Pew Internet Data Memo reported that 69% of Americans had either stored data online or used web-based software applications at least once. Using a Hotmail or Gmail account for email, storing Firefox or Google browser bookmarks online, sharing friendships in cyberspace on social networks like Facebook, maintaining a blog on WordPress, and storing personal videos and photos on YouTube and Flickr are just some of the ways many people are already "working in the cloud" every day.
Cloud architectures can allow people to easily and conveniently take advantage of larger amounts of storage and computing power; they also offer easy access to centrally located information reachable through any compatible device a user wishes to implement; they can provide a back-up to locally stored data; they allow people to easily share their data with others.
They also open up a wide variety of reliability, interoperability, privacy, and security concerns, as people put their information under the control of strangers in remote location anytime they trust in "the cloud." For instance, the corporate leaders at Facebook come under fire regularly for changing privacy settings again and again after signing up users who expected to participate under a different and more consumer-centered set of rules.
Respondents' thoughts
Survey participants were encouraged to explain their choice after they selected one of the tension-pair scenarios. They were asked to "share your view about how major programs and applications will be designed, how they will function, and the role of cloud computing by 2020." Following is a small selection of the hundreds of written elaborations, organized according to some of the major themes that emerged in the answers:
Cloud computing will continue to expand and dominate users' information transactions because it offers many advantages, allowing users to have easy instant and individualized access to tools and information they need, wherever they are, locatable from any networked device.
Mobile phones and other "pocket" devices are and will continue to be driving people to cloud-based services and applications.
Control over actions on the Internet will change with mass adoption of the cloud. When people store their information and applications on their own computers as they have been up till now, a certain amount of choice and control is distributed to the edges of the network. A switch to the cloud places users' data and tools behind walls owned by others, and the people in control of cloud companies may take action that constricts individual choice and restricts openness and innovation.
Cloud computing presents security problems and further exposes private information to governments, corporations, thieves, opportunists, and human and machine error.
People will generally not be able to distinguish the difference between when they are working within their local device and when they are accessing the cloud.
The evolution of desktop and cloud-based computing will continue in tandem.
The current mainstream discussion on cloud computing is not figuring in the expected development of bringing the "cloud to the desktop." It also does not always consider the potential of the internet of things, which includes a variety of networked smart appliances in smaller home and small-business networks that may also be tied into larger networks.
Cloud computing will not really take off until…
There are and will be divides. Cloud computing acceptance will vary, depending upon people's location, access, needs, and motivation.
The very essence of the idea of cloud computing continues to evolve, as does every aspect of the internet; it is difficult to predict what will happen because there are continuous adjustments to new realities and limitations, but we know that the drive to gain access to information everywhere and the rapid evolution of the tools to do this will continue to bring massive change.