Americans turn to family and friend networks to talk about race and race relations. But who is likely to be having these conversations, with whom and how often depend at least in part on a person's racial and ethnic identity, age, education and political affiliation, according to a 2019 Pew Research Center survey.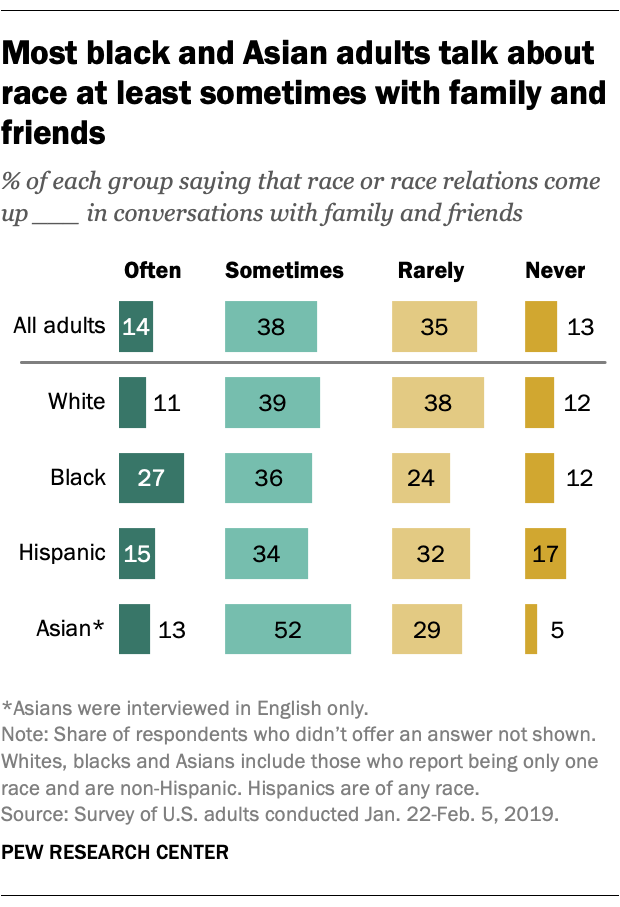 Most black and Asian adults (63% and 66%, respectively) say race or race relations come up in their conversations with family and friends at least sometimes, compared with about half of white (50%) and Hispanic (49%) adults. Blacks are more likely than other racial or ethnic groups to say these topics come up often; 27% of black adults say this compared with 11% of white, 15% of Hispanic and 13% of Asian adults.
In addition to exploring who is having these conversations – and with whom – the survey asked how comfortable people feel when race or race relations comes up in their conversations. Most black (77%), white (74%), Asian (70%) and Hispanic (62%) adults who ever have conversations about race say they are generally very or somewhat comfortable when the topic comes up. Among Hispanics, roughly four-in-ten (37%) say they feel at least somewhat uncomfortable when race comes up in conversations with family and friends, and this is particularly the case among foreign-born Hispanics (47% say these conversations make them uncomfortable vs. 29% of Hispanics born in the U.S.).