The results of U.S. Senate elections increasingly are aligned with states' party preferences in presidential elections – a trend that could have major implications in this year's battle for control of the Senate.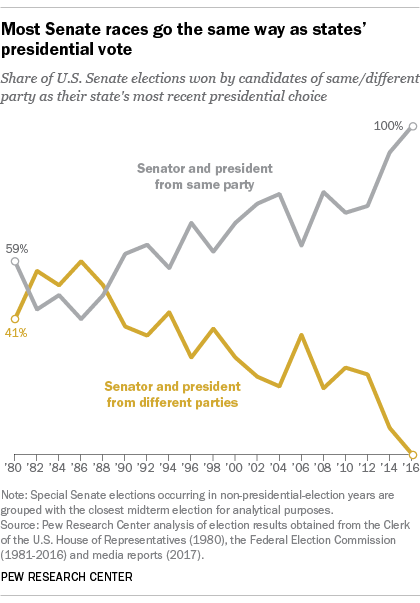 The vast majority of the regular and special Senate elections held since 2013 – 69 of 73 – have been won by candidates who belonged to the party that won that state's most recent presidential race, according to a Pew Research Center analysis of election results going back to 1980. That represents a marked contrast with prior years: As recently as 2006, 12 of 33 Senate contests (36%) were won by candidates of different parties than their state's 2004 presidential pick. (The election data we used came mostly from the Federal Election Commission, supplemented by information from the U.S. House Clerk's office and media reports.)
There are 35 Senate seats at stake this November – 33 regularly scheduled elections, plus special elections in Minnesota and Mississippi. Of those, 18 seats are in states that went for Republican Donald Trump in 2016, while 17 are in states that favored Democrat Hillary Clinton. Democrats (and two independents who caucus with them) currently hold 26 of those seats, including 10 in states that voted for Trump. Republicans hold nine of the seats up for grabs this year, but only one in a Clinton state.
The growing alignment of Senate races with presidential voting patterns is a relatively new phenomenon. In 1980, for instance, Democrats won Senate seats in 12 of the 31 states that held Senate races and were carried by Republican Ronald Reagan as he swept into the White House. (Reagan won all but six states that year; two of those states elected Republican senators despite going for Jimmy Carter, the incumbent Democrat.) In the 1982 midterms, Democrats won 17 of the 28 Senate contests held in states Reagan had won two years earlier.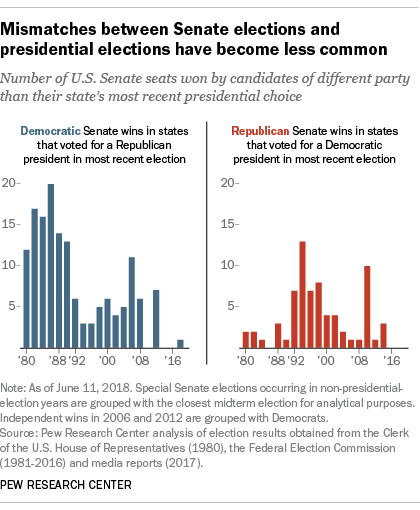 The "mismatch rate" – which we define as the percentage of Senate races won by an opposite-party candidate to a state's most recent presidential vote – peaked at nearly 59% in 1986. That year, Democrats won back control of the Senate two years after Reagan's 1984 landslide re-election, in which he won every state except Minnesota (and the District of Columbia). Of the 34 Senate races that year, Democrats won in 20 states Reagan had won two years earlier.
Since the late 1980s, however, the mismatch rate generally has trended lower, despite occasional deviations (such as in 1994 and 2006). The biggest drop came after Barack Obama won 26 states in his 2012 re-election; that year, the mismatch rate was 24%. But of the 38 regular and special Senate elections held in the 2013-14 cycle, all but three mirrored the 2012 presidential vote, for a mismatch rate of just under 8%. (The three exceptions all were Republicans elected to Senate seats in Obama states.) In 2016, all 34 Senate contests tracked the presidential vote in their respective states.
One consequence of the increasing alignment between states' presidential and Senate voting patterns is a decrease in split Senate delegations. Currently, 14 states have two senators of different parties, tied for the second-fewest split delegations in the past five decades.
The trend also is similar to the decline of split-ticket voting in House races (that is, voting for a House Democrat and a GOP presidential candidate, or vice versa) – a development that has contributed to the scarcity of House seats "flipping" from one party to the other, as well as to fewer split Senate delegations. Both trends have been driven by the ever-widening divide between Democrats and Republicans on fundamental political values, as well as the fact that Americans are more consistently liberal or conservative in their views than in the past.