Where Christian churches, other religions stand on gay marriage
The Supreme Court ruling earlier this year legalizing same-sex marriage nationwide has continued to raise questions about how the decision will affect religious groups – especially those that remain opposed to allowing gay and lesbian couples to wed. The court's ruling makes clear that clergy and religious organizations are not obliged to perform same-sex marriages, but some groups have expressed concerns about their tax-exempt status.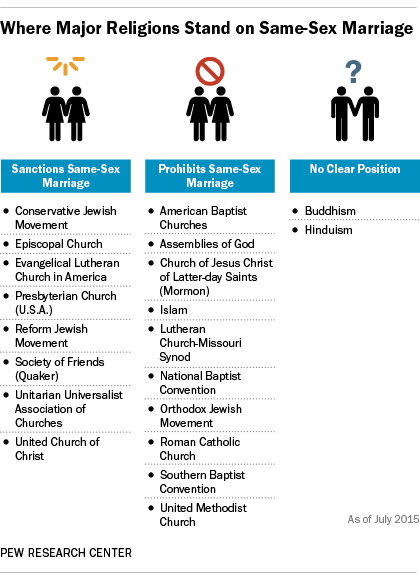 Many of the largest U.S. religious institutions have remained firmly against allowing same-sex marriage, including the Roman Catholic Church, the Orthodox Jewish movement and the Church of Jesus Christ of Latter-day Saints, as well as the Southern Baptist Convention and other evangelical Protestant denominations. The nation's largest historically black church, the National Baptist Convention, and its biggest Pentecostal denomination, the Assemblies of God, also prohibit their clergy from marrying same-sex couples.
At the same time, in the past two decades, several other religious groups also have moved to allow same-sex couples to marry within their traditions. This includes the Reform and Conservative Jewish movements, the Unitarian Universalist Association and the United Church of Christ.
And the list is growing: Clergy from the Episcopal Church will be able to perform same-sex marriage ceremonies after the church's General Convention recently approved a new definition of marriage. Another mainline Protestant denomination, the Presbyterian Church (U.S.A.), voted to formally sanction same-sex marriage earlier this year.
Among the four largest mainline Protestant churches, the same-sex marriage debate has not been simple. The United Methodist Church, the Evangelical Lutheran Church in America (ELCA), the Presbyterian Church (U.S.A.) (not to be confused with the Presbyterian Church in America, which opposes same-sex marriage) and the Episcopal Church have wrestled with the issue for years, often as part of a larger debate on the role of gays and lesbians in the church.
The new definition of marriage for the Episcopal Church, a member of the Anglican Communion, drew "deep concern" from the archbishop of Canterbury, whose Church of England does not sanction same-sex marriage. And the debate within the Presbyterian Church has already led some congregations to break away and join other, more conservative Presbyterian denominations. Both denominations allow clergy to opt out of performing same-sex marriages, while the ELCA allows ministers and their congregations to determine their own policies.
The United Methodist Church does not allow same-sex blessings or marriages. But the United Methodists also have been intensely debating the issue, particularly in the past year or so, after a church court tried, defrocked and eventually reinstated the Rev. Frank Schaefer, a Methodist pastor who had performed a same-sex marriage ceremony for his gay son. Schaefer's case has split the church, with some clergy flouting the rules and marrying same-sex couples and other, more conservative members threatening to leave if the church does not hold to its current rules prohibiting gay marriage.
Overall, a solid majority of white mainline Protestants (62%) now favor allowing gays and lesbians to wed, with just 33% opposed, according to a 2015 Pew Research Center survey. A similar share (63%) say there is "no conflict" between their religious beliefs and homosexuality.
This is an update of a post originally published June 18, 2014 and previously updated on July 2, 2015.
Topics: Gay Marriage and Homosexuality, Catholics and Catholicism, Christians and Christianity, Evangelical Protestants and Evangelicalism, Mormons and Mormonism, Jews and Judaism, Buddhists and Buddhism, Hindus and Hinduism
David Masci is a senior writer/editor focusing on religion at Pew Research Center.

Michael Lipka is an editorial manager of religion research at Pew Research Center.