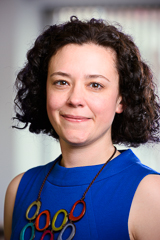 Download High-Res Photo
Andrea Caumont is the digital engagement manager at Pew Research Center.
Pew Research Center's most-read research of 2016
Pew Research Center published 125 reports and more than 400 blog posts in 2016. Here were the ones that attracted the most readers.
How do American mothers feel about being a mom? It depends on how old their kids are
Changing diapers and arranging play dates is a world apart from running the carpool and helping with college applications.
What we learned about online nonprobability polls
The advantages of these online surveys are obvious – they are fast and relatively inexpensive, and the technology for them is pervasive. But are they accurate?
10 demographic trends shaping the U.S. and the world in 2016
We gathered key facts for this year's Population Association of America (PAA) meeting.
How social media is reshaping news
Pew Research Center has gathered a lot of data over the past year on how social media networks are shaping news consumption and distribution.
10 big questions the Pew Research Center has tackled in the past decade
For Pew Research's 10-year anniversary, here's a list of 10 big research questions we've answered over the years that speak to broad ways that America and the world is changing.
Chart of the Week: The hype cycle of emerging technologies
The Gartner Hype Cycle tracks emerging technologies from the "peak of inflated expectations" to the "trough of disillusionment" and beyond.
5 facts about the French
Ah, la France. The land of wine, cheese, romance and abundant vacation time... right?
5 key findings about student debt
A record 37% of young households had outstanding student loans in 2010 and a median student debt of $13,000.
5 questions (and answers) about American moms today
Today's American mothers look far different from the mothers celebrated 100 years ago.