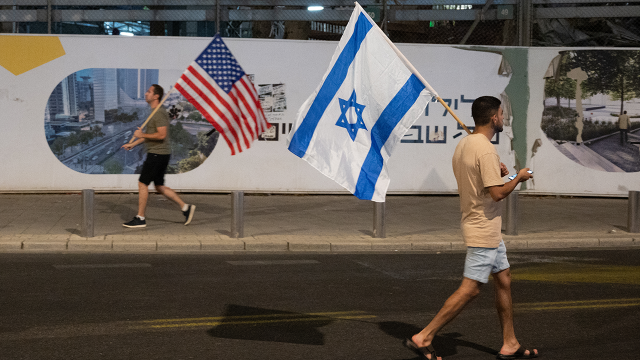 Americans have generally positive views of Israel and its people. But their views of Israel's government and Prime Minister Benjamin Netanyahu are more mixed, according to recent Pew Research Center surveys. Netanyahu was recently invited to meet with U.S. President Joe Biden in Washington, D.C., though no date has yet been set for the visit.
Ahead of a potential visit, here are five facts about Americans' views of Israel, its government and U.S.-Israel relations. This analysis is based on surveys from spring 2022 and spring 2023. The 2023 survey took place in March amid protests over Netanyahu's proposed judicial overhaul, but fieldwork was completed before that legislation was passed in July.
Pew Research Center conducted this analysis to show how Americans view Israel, its leadership and its relations with the United States. All the findings in this post are based on Center surveys. Additional information about these studies and their methodologies are available at the links in the text.
Related: Israelis have polarized views of Netanyahu, reflecting conflicts many see in Israeli society
More than half of Americans (55%) had a favorable view of Israel in a 2022 survey, while 41% had an unfavorable view. Attitudes toward Israel varied by age, partisanship and religious affiliation.
Majorities of Americans ages 65 and older (69%) and ages 50 to 64 (60%) had a favorable opinion of Israel, compared with 49% of those ages 30 to 49 and 41% of those under 30.
Republicans and Republican-leaning independents were more likely than Democrats and Democratic leaners to have a positive view of Israel (71% vs. 44%). Conservative Republicans were especially likely to express favor (75%).
Majorities of Protestants (63%) and Catholics (58%) had favorable views of Israel, compared with around four-in-ten religiously unaffiliated Americans (42%). Among Protestants, White evangelicals (80%) had more positive views of Israel than White nonevangelicals (61%) or Black Protestants (43%). (Due to sample size limitations, we're unable to report the views of smaller U.S. religious groups, like Jews and Muslims.)
In 2022, Americans were more likely to have a favorable opinion of Israel's people than of its government. Two-thirds of Americans saw the Israeli people favorably. Far fewer (48%) had a favorable view of Israel's government.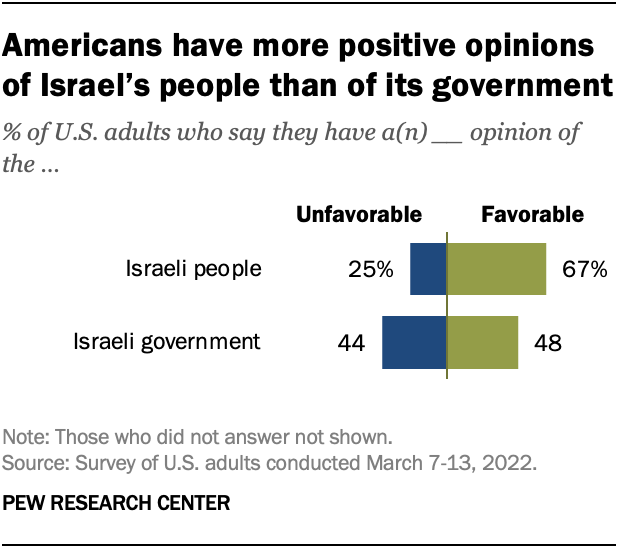 Other Center research shows that when Americans are asked to assess other countries, they tend to focus primarily on that place's government, as opposed to its people. For example, Americans are more critical of China's government than of its people.
About a quarter of Americans (26%) said in a March 2023 survey that they had never heard of Netanyahu, but among those who had, more saw him negatively than positively. Some 42% of Americans said they had no confidence in Netanyahu to do the right thing regarding world affairs, while 32% expressed confidence in him.
Views of Netanyahu differed by political party and ideology. Republicans were far more likely than Democrats to have confidence in him (49% vs. 17%).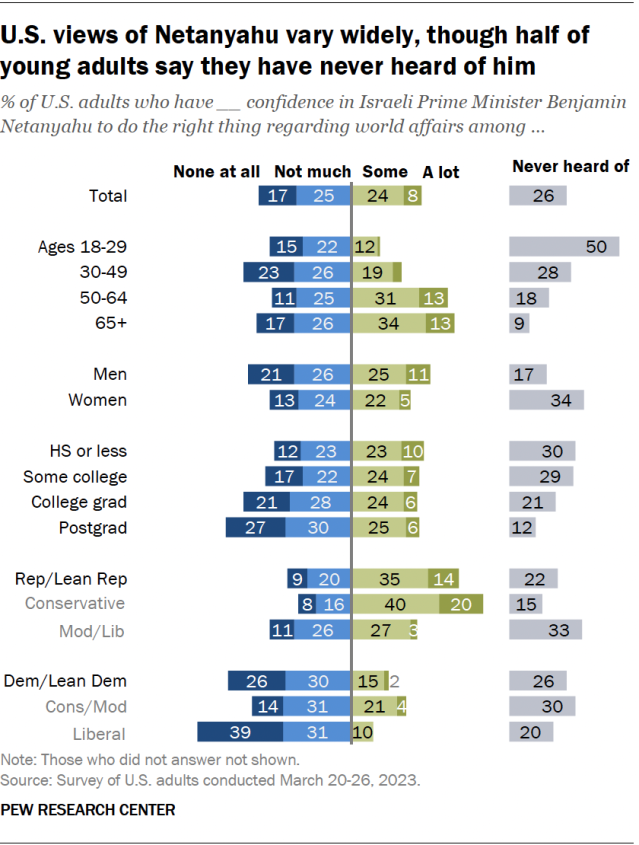 Most Americans (74%) said in 2022 that relations between the United States and Israel were good. Democrats and Republicans expressed similar views on this question: About three-quarters in each group said relations were good.
Older Americans were more likely than younger ones to describe the countries' relationship as good. And college-educated Americans were more likely than those with less education to say the same, a difference driven by particularly positive assessments from those with a postgraduate degree.
A majority of Americans (62%) said in 2022 that they were not sure whether Biden was favoring Israelis or Palestinians too much. Overall, 16% said Biden was striking the right balance between Israelis and Palestinians, and 13% said he was favoring Palestinians too much. A smaller share (8%) said Biden was favoring Israelis too much.
Democrats and Republicans were about equally likely to say they were unsure about how Biden was handling the issue. Among those who offered a response, Democrats were most likely to say Biden was striking the right balance (26%), while Republicans were most likely to say Biden was favoring Palestinians too much (26%).
Shradha Dinesh
is a former intern with Short Reads at Pew Research Center.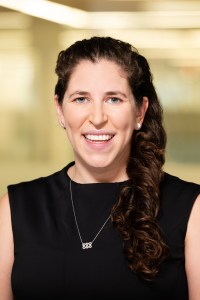 Laura Silver
is an associate director focusing on global attitudes at Pew Research Center.