Americans' views of Russia have declined in the past year – and so have Russians' views of the United States, according to a new Pew Research Center survey. Currently, roughly a quarter or fewer in each country have a favorable view of the other. Here are six charts that highlight Russian and American public opinion about the relationship between the two nations:
1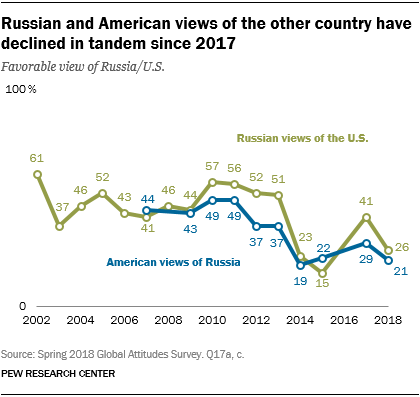 Russians' views toward the U.S. briefly improved after the election of Donald Trump, but they have fallen to levels last seen near the end of the Obama administration. Only 26% of Russians now have a favorable view of the U.S., down from 41% in 2017. Among Americans, just 21% see Russia favorably, similar to the share who had a favorable view after Russia's 2014 annexation of Crimea (19%).
2
Democratic and Republican views of Russia followed similar trajectories – until Trump's election. For many years, Democrats and Democratic-leaning independents had slightly more favorable views of Russia than Republicans and GOP leaners, and opinions in both groups moved downward in tandem. After Russia annexed Crimea in 2014, for example, opinions dropped substantially among members of both parties. Following Trump's election in 2016, however, favorable opinions of Russia more than doubled among Republicans, while Democrats' views were mostly unchanged. In the Center's latest survey, the share of Republicans with a positive view of Russia fell to 27%, but it was still above the share of Democrats with a favorable view (16%).
3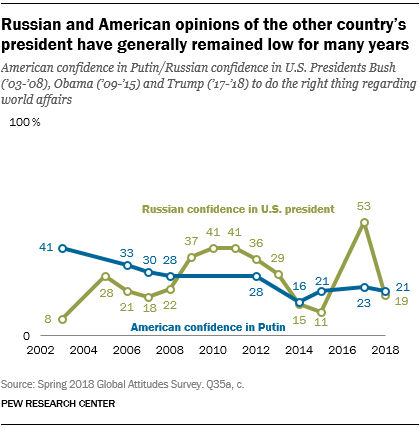 Among both Americans and Russians, there is little confidence in the ability of the other nation's president to do the right thing regarding world affairs. Only 21% of Americans have confidence in Russian President Vladimir Putin to do the right thing – similar to the share who had confidence in him over much of the past decade.
Among Russians, no more than about four-in-ten have had confidence in any U.S. leader in surveys conducted since the early 2000s, apart from a brief spike in 2017 after the election of Trump. This year, only 19% of Russians have confidence in Trump. This is roughly half the level of support that Russians gave to Barack Obama during his first term, when relations between the two countries were somewhat better after then-Secretary of State Hillary Clinton hit the so-called "reset button" with Russia.
4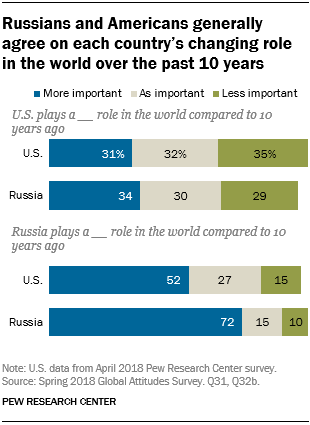 Russians and Americans are both  similarly split on the changing nature of American power – but are more likely to say Russia's international importance is rising. Opinions in both countries are divided over whether the U.S. is playing a more important, equally important or less important role in the world compared with 10 years ago. But there is more agreement that Russia's importance has increased. Around seven-in-ten Russians (72%) say this, as do 52% of Americans. People in both countries also agree that China plays a more important role in the world today than a decade ago (73% and 72%, respectively).
5
When asked to choose between the U.S. and China as the preferred leading power for the world, Americans clearly prefer their own country. But only 13% of Russians choose the U.S. Nearly three times as many Russians prefer China (35%) over the U.S., and a similar share of Russians volunteer "neither," which might indicate displeasure with Russia not being offered as a category for this question.
6
Americans and Russians strongly disagree over whether the U.S. takes into account other countries' interests when it makes foreign policy. A majority of Americans (57%) say Washington does consider other nations, but nearly two-thirds of Russians (65%) say it does not. This sentiment in Russia has been consistent since the question was first posed in 2002. Similarly, most Americans since then have also said the U.S. listens to other countries when making foreign policy. In 2002, however, 75% of Americans said this was the case, compared with 57% seen today.
Note: See full topline results (PDF) and methodology here.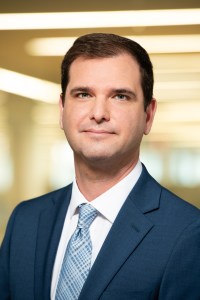 Jacob Poushter
is an associate director focusing on global attitudes at Pew Research Center.