The resettlement of refugees in the U.S. has been fairly consistent across the country since 2002, with no state resettling a majority of them. In fiscal year 2017, no state resettled more than 10% of the 53,716 refugees the nation admitted that year. California, Texas, New York, Washington, Michigan and Ohio each accounted for at least 5% of refugees resettled, while all other states had a lower share. In fiscal 2002, the earliest year state-level data are publicly available, California resettled 16% of the nation's 27,110 refugees, the only state to account for more than 15% of the nation's total that year – or in any following year, according to a Pew Research Center analysis of U.S. State Department data.
Most refugees today come from the Middle East and Africa, but this has not always been the case.
Explore the data with an interactive feature. 
In fiscal 2017, which ended Sept. 30, 2017, the U.S. admitted more refugees from the Democratic Republic of Congo (9,377) than from any other country, and this group made up the largest nationality of refugees in 15 states. Iraqis made up the second-largest nationality group of refugees admitted in fiscal 2017, with 6,886 refugees resettled. Refugees from Iraq accounted for the largest nationality group in six states, including Michigan, Nebraska and Massachusetts.
Some refugee nationalities with relatively low U.S. totals led only a handful of states in fiscal 2017. For example, Eritrea was the top refugee nationality in Delaware and Montana, even though fewer than 2,000 refugees from that country (or 4% of all refugees) entered the U.S. that year.
Fifteen years ago, the flow of refugees to the U.S. was different. In fiscal 2002, refugees from Ukraine made up 19% of the 27,110 total refugees that came to the U.S., the highest share of any nationality that year, followed by Bosnia and Herzegovina (13%). Together, the two countries accounted for the top refugee nationality in 21 states.
Between fiscal 2008 and 2012, more than four-in-ten refugees admitted to the U.S. were from Asian countries. The number of refugees from Burma (Myanmar) peaked in 2008 and 2011, when they made up 30% of refugees resettled in the U.S. This group accounted for the top refugee nationality in 27 states in 2008 and 24 states in 2011.
Generally, refugee populations are dispersed across the U.S. based on local community resources, efforts to reunite families and the ability of nonprofit organizations to resettle refugees. Nine voluntary agencies share the national resettlement workload and determine where refugees will settle. (These agencies maintain a nationwide network of 309 affiliated offices in 180 locations to provide services.)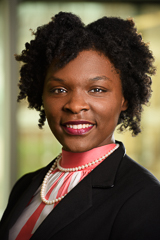 Jynnah Radford
is a former research assistant who focused on global migration and demographic research at Pew Research Center.