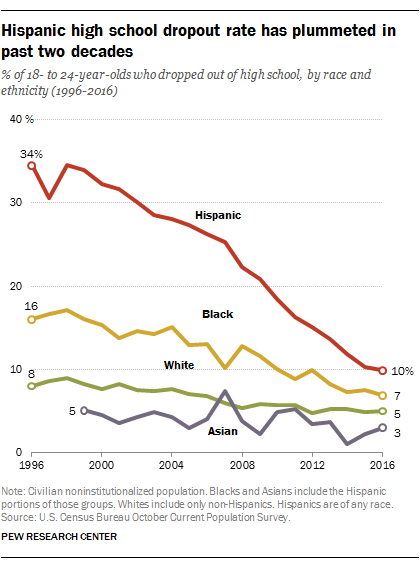 The high school dropout rate among U.S. Hispanics has fallen to a new low, extending a decades-long decline, according to recently released data from the Census Bureau. The reduction has come alongside a long-term increase in Hispanic college enrollment, which is at a record high.
The Hispanic dropout rate was 10% in 2016, with about 648,000 Hispanics ages 18 to 24 – out of more than 6.5 million nationally in that age group – not completing high school and not enrolled in school. Just five years earlier, the rate had been 16%.
The overall high school dropout rate in the U.S. has also fallen substantially in recent decades, matching a record low of 6% in 2016. Hispanics have accounted for much of that decline. Since 1999, the earliest year for which data on all major races and ethnicities are available, the dropout rate among Hispanics has fallen by 24 percentage points, compared with 9 points among blacks, 3 points among whites and 2 points among Asians. (Hispanics, however, still have the highest dropout rate of these four groups.)
The decline in the Hispanic dropout rate is particularly noteworthy given the large increase in Hispanic enrollment in U.S. public and private schools. Between 1999 and 2016, the number of Hispanics enrolled in public and private nursery schools, K-12 schools and colleges increased 80%, from 9.9 million to 17.9 million. By comparison, enrollment during the same period increased 30% among Asians (from 3.6 million to 4.7 million) and 4% among blacks (from 11.3 million to 11.7 million) while falling 14% among whites (from 47.3 million to 40.6 million). Total public school enrollment grew 7%, from 72.4 million to 77.2 million.
The rise in Hispanic student enrollment reflects broader demographic shifts that have occurred in the U.S., with Hispanics accounting for a growing share of the nation's overall population. But educational progress has also improved among Hispanics.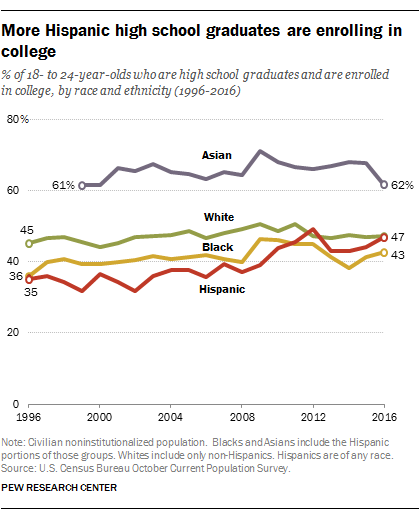 As the Hispanic dropout rate has declined, the share of Hispanic high school graduates who enroll in college has risen. In 2016, 47% of Hispanic high school graduates ages 18 to 24 were enrolled in college, up from 32% in 1999. By comparison, the share of college enrollees among 18- to 24-year-old white, black and Asian high school graduates increased more modestly.
A record 3.6 million Hispanics were enrolled in public and private colleges in the U.S. in 2016, up 180% from the 1.3 million who were enrolled in 1999. The increase in Hispanic college enrollment outpaced Hispanic enrollment growth in U.S. nursery and K-12 schools during the same span.
While Hispanics have made important strides in educational attainment in recent decades, it's important to note they still lag behind other races and ethnicities in several other academic measures. For example, Hispanics are less likely than other groups to obtain a four-year college degree.