Religious institutions are starting to formally address the participation of transgender people in their congregations, much as they have with the issue of accepting homosexuals.
Just recently, the Union for Reform Judaism approved a far-reaching resolution on the rights of transgender and gender nonconforming people, affirming its "commitment to the full equality, inclusion and acceptance of people of all gender identities and gender expressions."
In addition to Reform Judaism, the United Church of Christ, Unitarian Universalist and Episcopal churches each have issued specific statements saying that transgender people should be fully included in the life of the church and that they can be ordained as ministers.
Lesbian, gay, bisexual and transgender (LGBT) people generally see less social acceptance of transgender Americans than for lesbians, gay men and bisexuals in the country, according to a Pew Research Center survey conducted in 2013. Among all LGBT respondents, eight-in-ten say there is only a little (59%) or no (21%) social acceptance for transgender people in society, while far fewer say there is little to no acceptance for gay men (27%), lesbians (14%) or bisexual women (21%) or men (46%).
The 2013 Pew Research Center survey also found that LGBT adults are less religious than the general public in the U.S. And large majorities of LGBT Americans say that certain religious institutions – particularly Islam (84%), the Mormon church (83%), the Catholic Church (79%) and evangelical churches (73%) – are unfriendly toward people like them. LGBT adults have more mixed views of the Jewish religion and mainline Protestant churches, with 47% and 44% of LGBT adults, respectively, describing those religions as unfriendly, one-in-ten describing each of them as friendly and the rest saying they are neutral.
When it comes to acceptance, our research about churches and religious groups' formal positions on transgender individuals found a range of levels of inclusion.
In 2008, the United Methodist Church voted down a motion that would have excluded transgender people from joining the clergy, thus allowing transgender ministers to keep their ordination. But the church has continued to struggle with LGBT issues. In February of this year, the body tasked with articulating a vision for the future of the church proposed a "third way" on inclusion of LGBT people, which would remove punishments for ministers supportive of gay rights but stop short of full inclusion for LGBT people. The governing body of the United Methodist Church will vote on the proposal in 2016. Although the more recent debate has largely centered around same-sex marriage, the current proposal also would apply to transgender people.
The Presbyterian Church (U.S.A.) has no specific statement of inclusion, but in 2010 the church did remove specific barriers to transgender people being ordained. And the Evangelical Lutheran Church in America has no specific policy on the ordination of transgender people, although a transgender minister was ordained by the organization in July.
On the other side of the spectrum, some evangelical churches do not accept those who change their gender but instead look to provide special pastoral care for transgender people. The Lutheran Church-Missouri Synod, for instance, gives advice to ministers on how to counsel transgender people and encourage them to seek treatment for dysphoria. The Pentecostal denomination Assemblies of God "supports the dignity of individual persons affirming their biological sex and discouraging any and all attempts to physically change, alter, or disagree with their predominant biological sex." And the Southern Baptist Convention approved a resolution in 2014 stating that transgender people can only become members if they repent.
The Church of Jesus Christ of Latter-day Saints (also known as the Mormon church), in its handbook for stake presidents and bishops, says that those who are considering "elective transsexual operations" may not be baptized or confirmed. ("Stakes" are similar to Catholic dioceses.) Those who have already undergone such an operation may be baptized and confirmed with approval from the church's governing body. However, the handbook specifically states that those who have undergone surgery cannot be priesthood holders, a designation given to most Mormon boys at age 12.
The Roman Catholic Church does not recognize gender changes and says that in the eyes of the church, gender is determined permanently at birth. The church says that people who have had procedures to change their gender are not allowed to marry in the church, although also says such procedures could be morally acceptable in "extreme cases." Pope Francis has given somewhat mixed messages on the issue. He was quoted in a book saying that gender theory, like nuclear weapons, is a danger to humanity. (Gender theory holds that gender identity is a malleable social construct.) Yet Francis also has met with a transgender man.
Many other churches, including the Presbyterian Church in America, the Church of God (Cleveland, Tenn.) and the African Methodist Episcopal Church, do not have statements that explicitly address the status of transgender people, although many of these groups condemn homosexuality.
Correction: The paragraph dealing with the United Methodist Church has been corrected since publication.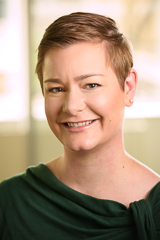 Aleksandra Sandstrom
is a former former senior copy editor focusing on religion at Pew Research Center.