When Japanese Prime Minister Shinzo Abe visits Washington this month, he will become the first Japanese leader to speak before a joint session of Congress, seven decades after the end of World War II, in which the two countries were enemies.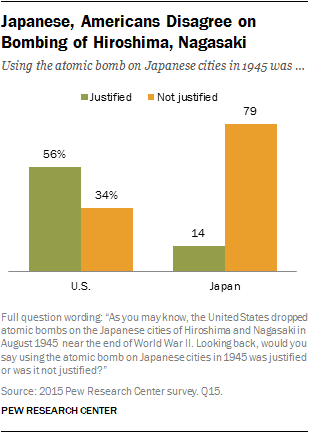 Nearly a third of Americans cite World War II as the event that stands out when they think about relations between the United States and Japan, according to a recent survey by the Pew Research Center. By contrast, only 17% of Japanese say WWII is the most significant occurrence in modern bilateral ties.
Nonetheless, the devastating event of the U.S. dropping atomic bombs on the Japanese cities of Hiroshima and Nagasaki in 1945 has long divided Americans and Japanese. Today, 56% of Americans believe the use of nuclear weapons was justified; 34% say it was not. In Japan, only 14% say the bombing was justified versus 79% who say it was not.
Not surprisingly, there is a large generation gap among Americans in attitudes toward the bombings of Hiroshima and Nagasaki. Seven-in-ten Americans 65 years of age and older say the use of atomic weapons was justified, but only 47% of 18- to 29-year-olds agree. There is a similar partisan divide: 74% of Republicans but only 52% of Democrats see the use of nuclear weapons at the end of WWII as warranted.
Despite this lingering disagreement over the justification for Hiroshima and Nagasaki, few Americans or Japanese believe Japan owes an apology for its actions during WWII.
A majority of Americans have moved past Japan's actions during WWII. More than a third say that Japan has apologized sufficiently for WWII and about a quarter hold the view that no apology is now necessary. Just 29% voice the opinion that Japan has not apologized sufficiently for its actions during the war. Again, it is younger Americans (73%) who are most likely to put Japan's role in WWII behind them, while older Americans (50%) are less convinced.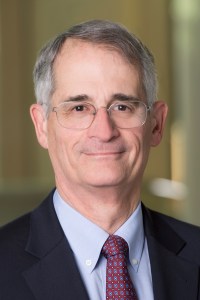 Bruce Stokes
is a former director of global economic attitudes at Pew Research Center.