A new survey of public attitudes toward federal agencies finds that partisan differences in views of the FBI have increased markedly over the past year. And Americans' opinions about Immigration and Customs Enforcement are deeply polarized: 72% of Republicans view ICE favorably, while an identical share of Democrats view it unfavorably.  
Overall public views of the FBI remain positive: 65% have a favorable opinion of the FBI, while 26% view it unfavorably. But since early 2017, the share of Republicans and Republican-leaning independents with a positive view of the bureau has fallen 16 percentage points, from 65% to 49%.
Today, Republicans are divided in their views of the FBI (49% favorable, 44% unfavorable). In January 2017, shortly before President Donald Trump took office, positive views of the FBI among Republicans outnumbered negative opinions by about three-to-one (65% to 21%).
Democrats' views of the FBI have changed little over this period: 77% of Democrats and Democratic leaners view the agency favorably, compared with 76% early last year.      
The national survey by Pew Research Center, conducted July 11-15 among 1,007 adults, finds that six-in-ten or more view several federal agencies favorably: the National Park Service (83% favorable), the Census Bureau (69%), the FBI (65%), the CIA (61%) and the Department of Health and Human Services (60%).
However, views of ICE are evenly divided. About as many Americans view Immigration and Customs Enforcement favorably (44%) as unfavorably (47%).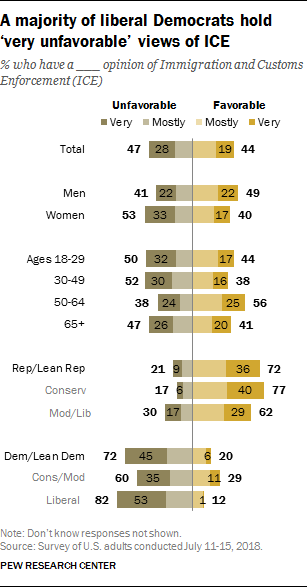 Republicans and Democrats have diametrically opposing views of the immigration enforcement agency, and the differences are particularly stark between conservative Republicans and liberal Democrats.
Nearly eight-in-ten conservative Republicans (77%) view ICE favorably, with 40% expressing a very favorable opinion. Among moderate and liberal Republicans, views are less positive (62% give ICE a favorable rating, including 29% who say they view it very favorably).
A large majority of liberal Democrats (82%) view ICE unfavorably, with 53% viewing the agency very unfavorably. Conservative and moderate Democrats feel less negatively about ICE (60% unfavorable, 35% very unfavorable).
For the most part, demographic differences in views of ICE are modest, though there are significant gender differences. More men view ICE favorably (49%) than unfavorably (41%). Among women, more have an unfavorable (53%) than favorable (40%) opinion of the agency.
Changing partisan views of Justice Department, EPA
Since Trump's inauguration in January 2017, Democrats' views of both the Department of Justice and the Environmental Protection Agency have become far less positive. For both agencies, Democrats' favorability ratings are near their lowest levels in the past eight years.
Today, 57% of Democrats and Democratic leaners view the Justice Department favorably, while 36% have an unfavorable opinion. The share of Democrats with favorable views of the department have fallen 17 percentage points since January of last year (from 74% to 57%).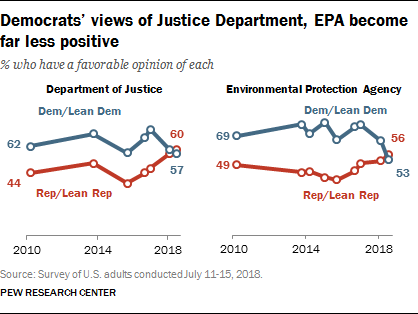 Republicans' views of the Justice Department have become more favorable since then; 60% view the department favorably, up from 47% about a year and a half ago.
There have been similar changes in partisan views of the EPA. There has been a 24-percentage-point decline in the share of Democrats with a favorable opinion of the agency since shortly before Trump took office (77% then, 53% today). Among Republicans, there have been more modest changes (5o% then, 56% today).
Partisan differences on FBI, IRS, ICE, agreement on National Park Service
Similar shares of Republicans and Democrats now view the Justice Department and EPA favorably – the first time that has occurred in surveys dating to 2010. 
About six-in-ten in both parties view the CIA and the Department of Health and Human Services favorably. And substantial majorities in both parties (85% of Democrats, 84% of Republicans) view the National Park Service favorably.
Aside from the sharp divides between Republicans and Democrats on ICE and the FBI, there continue to be partisan differences in views of the IRS. Democrats (65%) are more likely than Republicans (49%) to view the IRS favorably. However, Republicans feel more positively toward the IRS today than in September 2016, before the presidential election, when just 34% viewed the IRS favorably. Views among Democrats have remained fairly steady.
While clear majorities in both parties view the Census Bureau favorably, there is a partisan gap: About three-quarters of Democrats (74%) have a positive view of the bureau, compared with two-thirds of Republicans (66%).