Many media business analysts have applauded recent Gannett Co. and Tribune Co. moves to increase their stable of local television stations and reduce their reliance on newspaper holdings. Gannett's $1.5 billion purchase of Belo Corp. in June added 20 local stations to its portfolio, making it the fourth-biggest owner of local affiliates in the country. A week after Tribune's July 1 purchase of 19 new local TV stations for $2.7 billion, the company spun off its newspaper properties, which are widely believed to be on the market.
In response to the recent buying spree of local stations-which also includes Sinclair's plan to buy seven stations from Albritton Communications for about $1 billion-one analyst declared that the local television business "is the best it's been in a long time. I call it a renaissance."
There are a number of business reasons for these big investments in local television. Political ad spending at these stations reached a record $3.1 billion in 2012 and the Supreme Court's Citizens United ruling seems to guarantee more such windfalls in even-numbered years.  Retransmission fees, paid by cable and satellite companies to carry local channels, are growing rapidly-by an estimated 32% in 2012-and are expected to keep rising. The economic benefits of owning a large number of stations include everything from shared editorial resources to increased leverage with the broadcast networks over how to split retransmission money. And according to Pew Research survey data, nearly half of Americans (48%) say they regularly watch local news, a solid number in an era of fragmenting media use.
But a Pew Research Center examination of the state of the local television news industry also suggests a cautionary note is warranted. While traditional print companies may be moving toward higher and drier economic ground by expanding their television holdings, that may only prove a temporary respite if some worrisome trends in local TV news continue. And these news operations are a key component of the overall economics of local television stations, accounting for about 49% of the overall revenue.
Local television news lost audience in every key timeslot in 2012. On average, viewership at ABC, CBS, NBC and Fox affiliates in 2012 was down about 5% for the morning newscast, 7% in the early evening and 7% for the late night news – all in an election year. The new audience numbers for the February and May 2013 sweep periods are mixed, with modest gains in morning and early evening and continuing losses in late night.  In recent years, however, the trend has been clear. Since the Pew Research Center began tracking these numbers in 2007, average evening newscast viewership has been down every year through 2012. The same is true of the audience for the late night newscast, with the exception of an upward tick in 2011.
Young viewers are leaving local TV news. The number of Americans who say they regularly watch local television news dropped modestly from 54% in 2006 to 48% in 2012. But there is grimmer news about younger viewers. Of those aged 18-29, the number who said they regularly watched local news last year (28%) plunged by one-third compared with those who watched regularly in 2006 (42%). The exodus of young readers was one of the signs that signaled problems for the newspaper industry.
Political ads do not lift all boats equally. The $3.1 billion in 2012 political ads highlights local television's increasing dependency on that revenue. According to a Television Bureau of Advertising (TVB) analysis of Kantar CMAG data, political advertising accounted for 17% of total ad revenue at local stations in 2012, nearly doubling the 9% in 2008. But, that money was disproportionately allocated to nine "battleground" states where the presidential race was closely contested. TVB estimates that 53% of all candidate ad spending and 81% of presidential ad spending went to those nine states. And even with the political advertising windfall, the longer-term ad revenue trend is not one of growth. According to BIA/Kelsey, 2012 average ad revenue at news-producing stations, adjusted for inflation, was down 38% from 2000.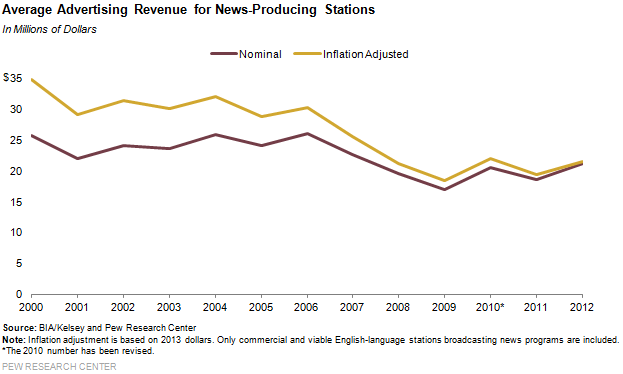 Digital revenue is lagging in local TV news.  Generally speaking, local television stations have not been aggressively building a digital business model, and the numbers bear that out.  According to industry estimates, online and mobile ads bring in only about 3% of the total revenue per television station group and in 2012, digital ad revenue growth slowed to 10%, half of what it had been the previous year. The research firm Borrell Associates found that in 2012, television stations accounted for a modest 12% of all the digital advertising dollars spent on local media outlets. In contrast, local newspapers got 47%.
The emphasis on a few topics could leave local news television vulnerable.  A Pew Research Center snapshot analysis of local television news in 2012 shows that a large chunk of time-on average 40% of the newscast-was devoted to sports, traffic and weather combined. While those topics have traditionally been popular in local newscasts, one potential problem with the heavy reliance on sports, traffic and weather is that this kind of information is now readily available on demand on a variety of the digital platforms particularly favored by younger news consumers.
There are signs of erosion of the depth of local TV news. One piece of evidence is that story lengths have been shrinking over time. According to a Pew Research study, of local television news from 1998-2002, 31% of all the stories excluding traffic, sports and weather were more than a minute long while 42% were under 30 seconds in length at that time. In 2012, the percentage of stories more than a minute long shrunk to 20% while those less than half a minute grew to 50%. Given the spurt of ownership consolidation, some observers wonder if the increased sharing of editorial resources will further dilute the quality of the newscast. (On July 24, a coalition of groups filed a petition to block the Gannett/Belo deal on the grounds that it would reduce information diversity in some communities.)
The economic ills of newspapers are clearly helping fuel the spate of recent TV acquisitions by companies once best known for their daily publishing business.  Indeed, the Tribune Co. moves led media analyst Alan Mutter to observe that "some of the smartest guys in the media business are giving up on print."  From that vantage point, local television franchises look relatively healthy. But data about their news operations suggest they may not be immune to their own set of audience and revenue problems in the years to come.