North America more upbeat than Europe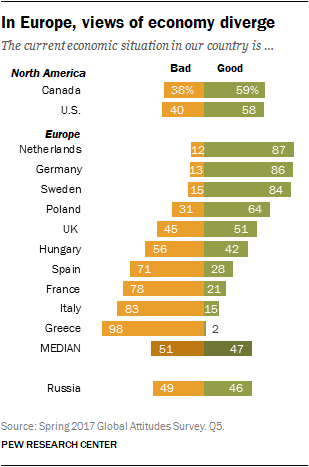 What a difference a year can make – or possibly an election, a rise in the stock market and a falloff in the U.S. unemployment rate. The U.S. economy grew by 1.5% in 2016, down from 2.6% growth in 2015, according to OECD data. Nevertheless, six-in-ten people in the United States (58%) say the economic situation is very or somewhat good. In 2016 just 44% of the American public described the economy as good.
This is the most upbeat assessment of U.S. economic conditions and only the second time that half or more of those surveyed have given the economy a positive rating since 2007. Newfound satisfaction among Republicans over the past year is driving this increase.
There is currently no major partisan difference in public views of the economy. Roughly six-in-ten Republicans (61%) and Democrats (60%) say conditions are good today. But positive sentiment among Republican Party supporters has roughly doubled in the past year, from 31% in 2016.
Americans who are older, wealthier and have more education are also more satisfied with the economy. Notably, there is a 14-percentage point difference in positive views of the economy between those who have a college education or more and those with a high school education or less.
Canadians have an equally bright view of their economic situation: 59% say it is good, up 11 points from 2016 but largely unchanged from 2015. In 2007, before the financial crisis, 80% of Canadians were upbeat about their economic conditions.
As in the U.S., partisan politics play a role in Canadians' views of their economy. Nearly eight-in-ten Canadians who identify with the ruling Liberal Party (78%) believe economic conditions are good. Only 46% of Conservatives agree, as do 55% of those who identify with the New Democratic Party. Conservatives' views are unchanged from 2016. Liberals' opinion has improved 22 points and NDP supporters' views are up 13 points.
Since the 2008 financial crisis, most Europeans have been quite dispirited about economic conditions in their country. Now, as the economy in a number of nations has begun to recover, the public mood is brightening. Among the Dutch, 87% believe economic conditions are good, as do nearly two-thirds of the Poles (64%). That's a 25-point increase in the Netherlands and a 15-point increase in Poland from 2016. And while only 28% of the Spanish say their economy is doing well, their views are also up 15 points. Even in Germany (86%) and Sweden (84%), where publics have felt good about their economic situation for some time, this year such sentiment is up 11 points in Germany and 8 points in Sweden. Even in France, where only 21% say the economy is good, that assessment is up 9 points from 2016.
Asian-Pacific nations mostly pleased with economy
In the Asian-Pacific nations surveyed, Indians and Filipinos are the most positive about their economic conditions. The South Koreans are the most downbeat.
Roughly eight-in-ten in India (83%) and the Philippines (78%) say the state of their economy is good. Notably, 30% of Indians believe their economy is very good, the strongest such sentiment among any country in the survey. Since 2015, Filipino positive assessment of their economy has improved 15 points.
Australia has not experienced a recession for a quarter-century. And Australians are upbeat about their economic conditions: 60% say they are good.
Japan, by comparison, has struggled with slow growth for more than two decades and is only now showing some signs of recovery. Roughly four-in-ten Japanese (41%) believe their economic situation is good, but that is up 11 points from 2016.
South Koreans are troubled by their economy: Only 15% think it is going well, while 84% voice the view that economic conditions are bad.
Largely negative economic assessments in Africa and Latin America
In Turkey (65% good) and Israel (62%), the two Middle Eastern countries surveyed, publics are fairly positive. And both assessments are up significantly since 2015: 18 points in Turkey, 13 points in Israel.
Half or more in four of five African nations give their economies a thumbs-down. Only in Senegal (76%) do people say their economic conditions are good. Just four-in-ten South Africans (45%), Kenyans (43%) and Nigerians (41%) agree. South Africans ages 50 and older are particularly downbeat – only 38% see their economy as doing well.
Majorities in all Latin American countries say economic conditions are bad. Just 15% of Brazilians believe their economy – which shrank by 3.4% in 2016, according to the OECD – is in good shape. Venezuelans – whose economy contracted an estimated 18% in 2016 – and Argentinians are not that much more upbeat, with 20% and 23% respectively having positive views of their economies. The most satisfied with their economic situation among the Latin Americans surveyed are the Chileans. And even there only 45% say the economy is good.