Roughly 34 million lawful immigrants live in the United States. Many live and work in the country after receiving lawful permanent residence (also known as a green card), while others receive temporary visas available to students and workers. In addition, roughly 1 million unauthorized immigrants have temporary permission to live and work in the U.S. through the Deferred Action for Childhood Arrivals and Temporary Protected Status programs.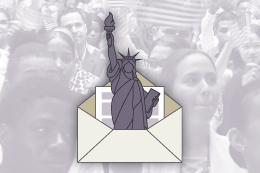 Try our email course on U.S. immigration
Learn about immigration through five short lessons delivered to your inbox every other day.
Sign up now!
For years, proposals have sought to shift the nation's immigration system away from its current emphasis on family reunification and employment-based migration, and toward a points-based system that prioritizes the admission of immigrants with certain education and employment qualifications.
The Trump administration has announced a proposal that would grant green cards to immigrants who meet requirements related to education, age and English-speaking ability. The administration has previously proposed regulation that would deny immigrants entry to the U.S. or lawful permanent residence if they are likely to use Medicaid, the Supplemental Nutrition Assistance Program (formerly known as food stamps) and other forms of public assistance. Here are key details about existing U.S. immigration programs:
Family-based immigration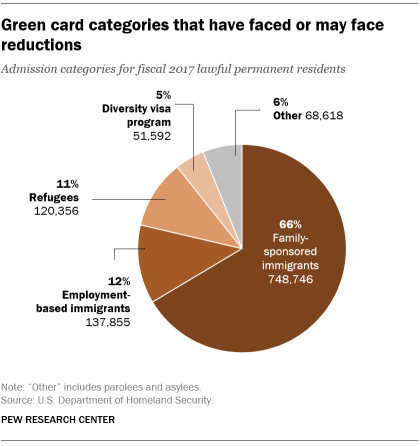 In fiscal 2017, 748,746 people received family-based U.S. lawful permanent residence. The program allows someone to receive a green card if they already have a spouse, child, sibling or parent living in the country with U.S. citizenship or, in some cases, a green card. Immigrants from countries with large numbers of applicants often wait for years to receive a green card because a single country can account for no more than 7% of all green cards issued annually. President Donald Trump said his legislation, when proposed, would prioritize family-based green cards to immediate family members. Today, family-based immigration – referred to by some as "chain migration" – is the most common way people gain green cards, in recent years accounting for about two-thirds of the more than 1 million people who receive them annually. This share could decline to about one-third under the president's proposal. Read More →