The terms Hispanics in the United States use to describe themselves can provide a direct look at how they view their identity and how the strength of immigrant ties influences the ways they see themselves. About half of Hispanic adults say they most often describe themselves by their family's country of origin or heritage, using terms such as Mexican, Cuban, Puerto Rican or Salvadoran, while another 39% most often describe themselves as "Hispanic" or "Latino," the pan-ethnic terms used most often to describe this group in the U.S.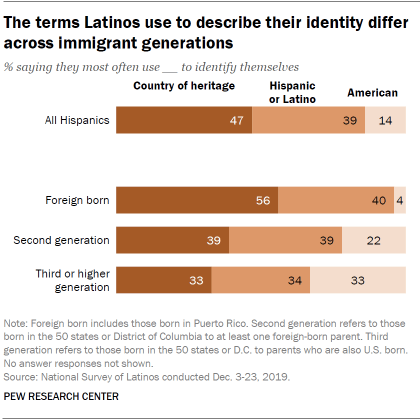 Meanwhile, 14% say they most often call themselves American, according to a national Pew Research Center survey of Hispanic adults conducted in December 2019.
The use of these terms varies across immigrant generations and reflects their diverse experiences. More than half (56%) of foreign-born Latinos most often use the name of their origin country to describe themselves, a share that falls to 39% among the U.S.-born adult children of immigrant parents (i.e., the second generation) and 33% among third- or higher-generation Latinos.
Read More

→