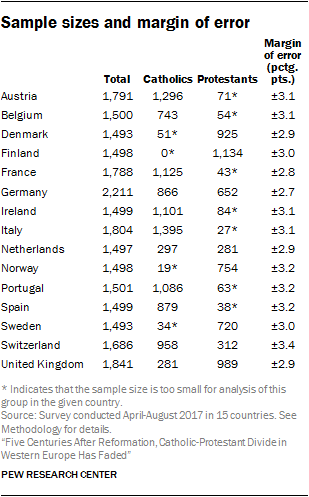 Pew Research Center conducted surveys among 24,599 adults across 15 countries in Western Europe. Interviewing was carried out under the direction of GfK through telephones (both cellphones and landlines) from April to August 2017. The questionnaire administered by survey interviewers was designed by Pew Research Center staff in consultation with subject matter experts and advisers to the project. The wording of several questions was tested cognitively, and the full survey questionnaire was pretested in all countries prior to fieldwork.
The surveys are nationally representative, with samples of about 1,500 or more respondents in each country, allowing researchers to analyze the opinions of Catholics in 11 countries and of Protestants in eight countries. The weighted datasets in each country match national benchmarks on the population's age distribution, gender, education and region of residence.
The study, funded by The Pew Charitable Trusts and the John Templeton Foundation, is part of a larger effort by Pew Research Center to understand religious change and its impact on societies around the world. The Center previously has conducted religion-focused surveys across sub-Saharan Africa; the Middle East-North Africa region and many other countries with large Muslim populations; Latin America and the Caribbean; Israel; Central and Eastern Europe; and the United States.
More details about our international survey methodology, including country-specific sample designs for this study, are available here.