A host of major news stories have been competing for Americans' attention in recent weeks. But the public is more likely to have heard "a lot" about ongoing confrontations between police and protesters than several other stories, according to a Pew Research Center survey conducted Aug. 31 to Sept. 7.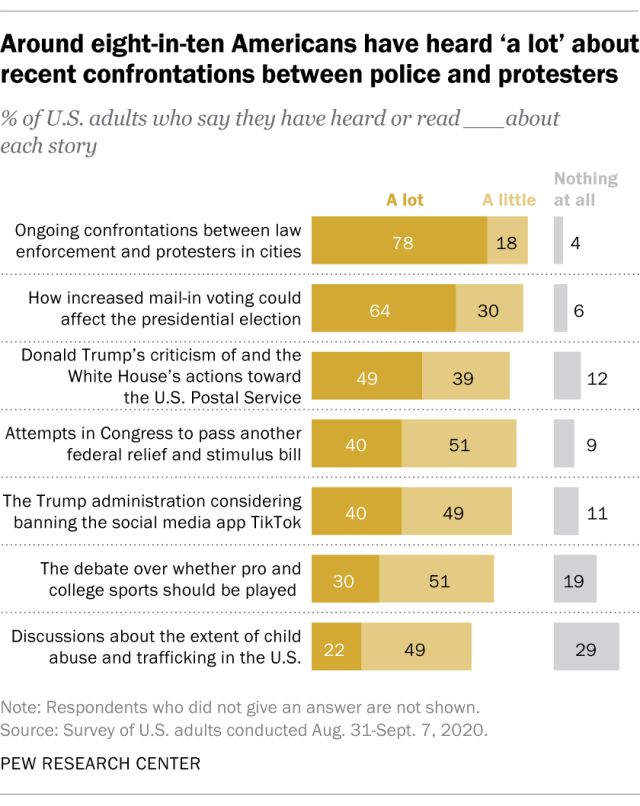 Around eight-in-ten U.S. adults (78%) say they have heard or read a lot about ongoing confrontations between law enforcement and protesters in cities around the country. That includes similar shares of Republicans and Republican-leaning independents (78%) and Democrats and Democratic-leaning independents (80%).
By comparison, smaller shares of adults say they have heard or read a lot about how increased mail-in voting could affect the 2020 presidential election (64%); President Donald Trump's criticism of the U.S. Postal Service and his administration's actions toward it (49%); attempts in Congress to pass another economic relief and stimulus bill (40%); and the Trump administration considering banning the social media app TikTok (40%). The survey of 9,220 adults was conducted as part of the Center's American News Pathways project.
Read More

→