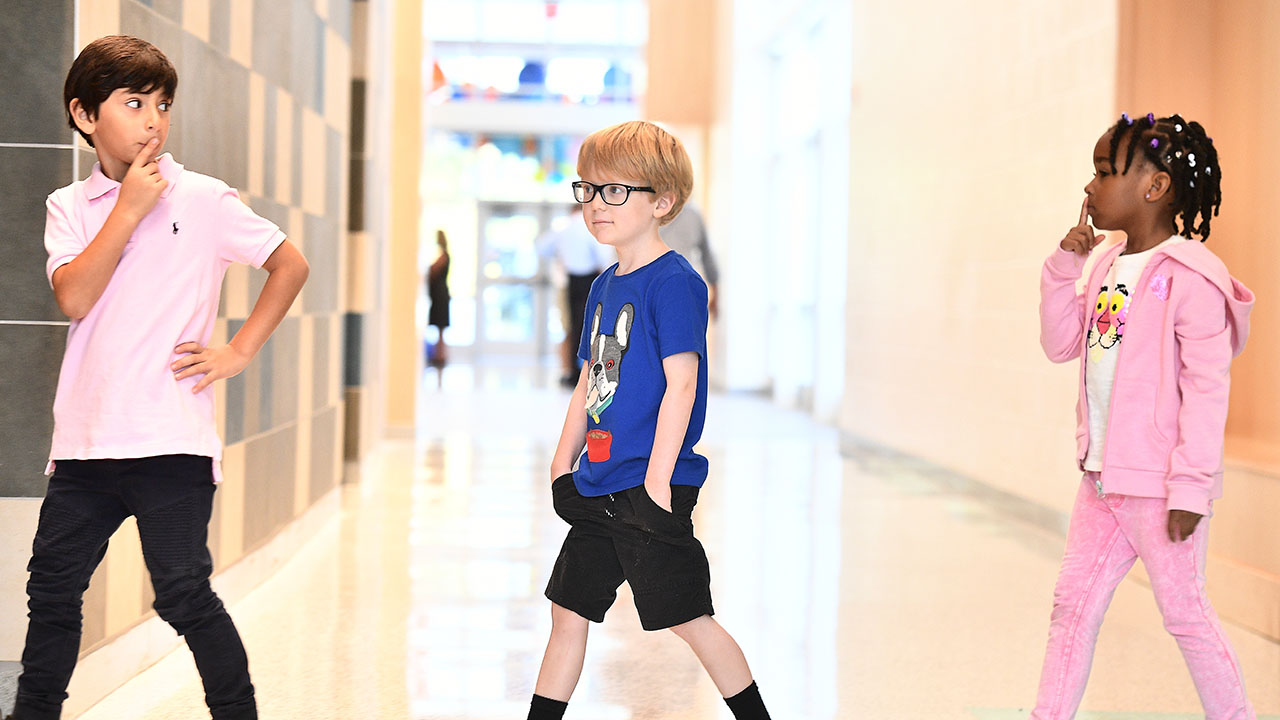 It's the second full week of August, which means millions of American schoolkids are heading back to school or have already started. And depending on where you live, that statement might produce a reaction of either "That sounds about right" or "That seems way too early!"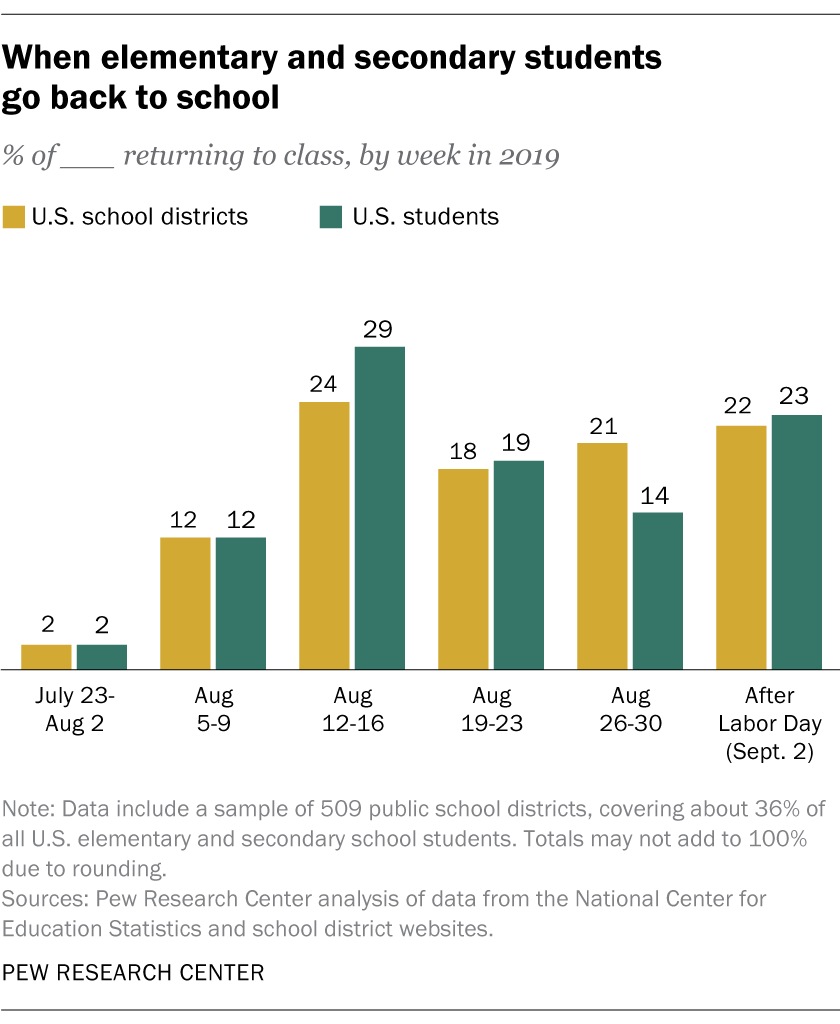 Back-to-school dates in the United States, it turns out, vary considerably by state and region, based on our analysis of a sampling of the nation's 13,000-plus public school districts. By the end of this week, for example, nearly all elementary and secondary school students in the East South Central region – a Census Bureau division that includes Alabama, Kentucky, Mississippi and Tennessee – will be back in school. But not a single district in the nine New England and Middle Atlantic states will resume classes before Aug. 26, and many wait until after Labor Day.
The prize for the earliest start date among the 500-plus districts in our sample goes to Arizona's Chandler Unified School District, which serves part of suburban Phoenix. The 44,000 or so students in Chandler Unified went back July 23 (though they get the first of three two-week "intersession" breaks starting Sept. 30). At the other extreme are the Trenton, New Jersey public schools, whose nearly 14,000 students won't go back to school till Sept. 9 – the latest opening date in our sample.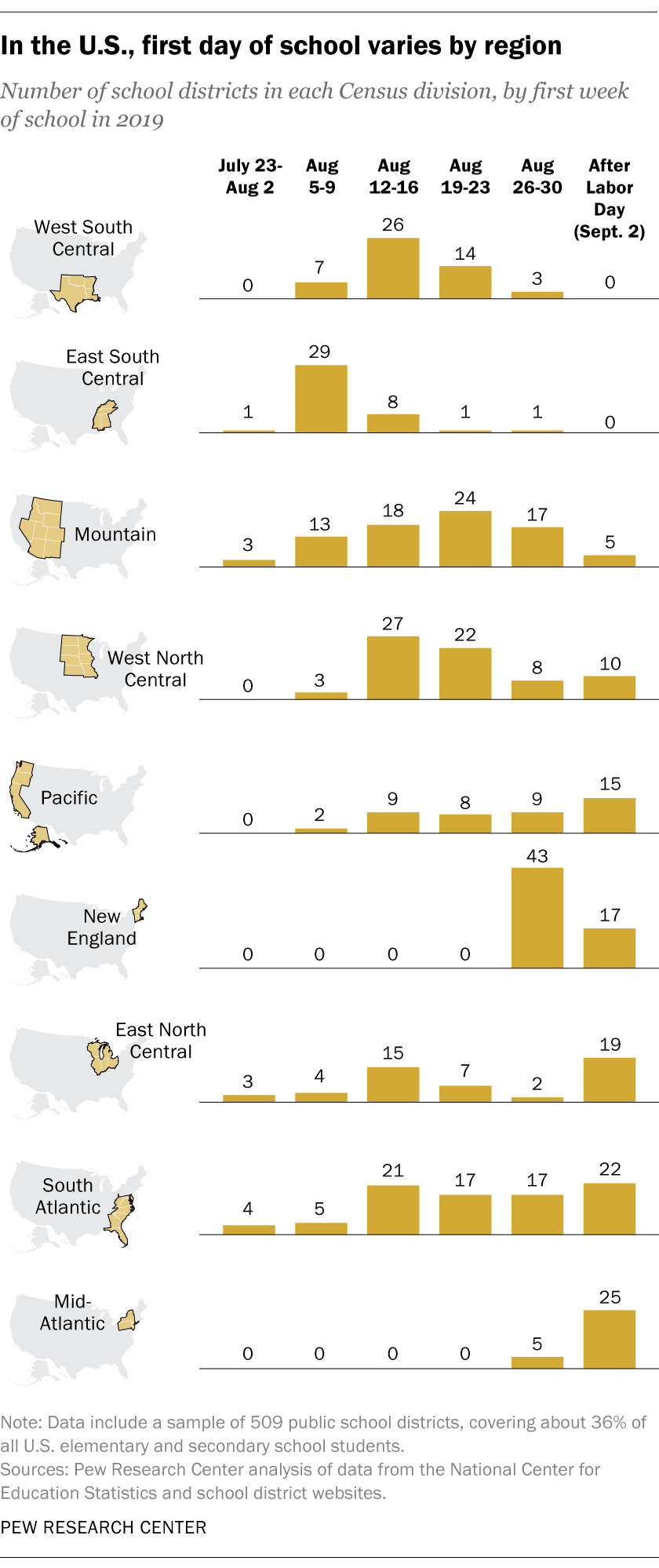 Broadly speaking, earlier starts are more common in the South and Southwest: In a rough band of 13 states stretching from Arizona to Florida and up to South Carolina, 79% of the districts we examined will be back in school by the end of this week. Later starts are more common along the East Coast (from Maine to North Carolina), the upper Midwest (Wisconsin, Minnesota, Michigan) and the Northwest (Oregon and Washington).
Historically, the tourism and hospitality industries have favored later back-to-school dates, arguing that they give families more time to take vacations and teenagers more time to work summer jobs. For example, since 1986 Virginia's "Kings Dominion law" (named for the amusement park just north of Richmond) barred most schools in that state from opening before Labor Day. Earlier this year, the law was amended to permit districts to open up to two weeks earlier, so long as they also give students a four-day Labor Day weekend. Still, six of the 10 Virginia districts in our sample are starting their 2019-20 school years after Labor Day; two will open Aug. 26, one on Aug. 22, and one (subject to a special provision) on Aug. 12.
To get a sense of when students head back to school, we looked at the 10 largest local school districts by enrollment in each state (except for Hawaii and the District of Columbia, which have only one district apiece). We also examined additional districts in Texas, Florida and California, so that the final 509-district sample would include the nation's 100 biggest districts. We excluded private and parochial schools, public charter schools, state-run schools and other educational institutions that often operate on their own schedules. Our final sample covered about 36% of the nation's 50.6 million public elementary and secondary students.
For each district in the sample, we determined the date or dates on which most of their first-through-12th graders started fall classes. (Kindergartners often start school later than their older peers.) Although a handful of districts are on some form of year-round schedule, and many others have individual schools that operate year-round, we focused on the "traditional" calendars followed by most schools in a given district. When start dates were staggered by school or grade level, we used a date range.
All told, 124 of the districts in our sample (representing 29% of students) are starting school between Aug. 12 and Aug. 16, making it the most popular start week. Another 74 districts (with 14% of students) went back earlier this summer; 93 (19% of students) will start up again next week.
But 105 districts (14% of students) won't start until the last week of August – and nearly half of these (48) are in New England or the Middle Atlantic states (New York, New Jersey and Pennsylvania). An additional 113 districts (with 23% of students) won't resume classes till after Labor Day, all but 22 of which are north of the Mason-Dixon line. (The 22 exceptions are in nearby Delaware, Maryland and Virginia.)
Are students going back to school earlier than they used to? Finding school calendars from years and decades past for our sample districts proved to be beyond the reach of this analysis, but there's some evidence that more secondary-school students, at least, are spending part of their summers in the classroom.
A separate Pew Research Center analysis found that U.S. teens are spending more of their summer hours on educational activities – and less time on leisure – than they used to.