The #MeToo hashtag first went viral on Twitter a year ago this month. Although the social movement of the same name existed beforehand, the hashtag was popularized on Oct. 15, 2017, when actress Alyssa Milano urged victims of sexual abuse to share their stories on Twitter in the wake of accusations of misconduct against Hollywood executive Harvey Weinstein.
Amid ongoing discussions about sexual harassment in the workplace and beyond, here are five findings about how these issues have been discussed on Twitter and other social media outlets in the past year:
1The #MeToo hashtag has been used more than 19 million times on Twitter from the date of Milano's initial tweet through Sept. 30 of this year, according to a new Pew Research Center analysis of publicly available English-language tweets. That works out to an average of 55,319 uses of the hashtag per day. The day with the single-greatest number of mentions was Sept. 9, when Leslie Moonves, chairman and chief executive of CBS, resigned amid allegations of sexual misconduct.
2Personal stories and prominent celebrities have been key topics in #MeToo tweets. The Center conducted a separate analysis of five time periods with a high volume of English-language #MeToo tweets to examine how often three specific topics were mentioned in connection with the hashtag. The topics were: Twitter users sharing personal stories of harassment; users talking about the entertainment industry or celebrities in their tweets; and users discussing national politics or politicians. Some 15% of tweets across these specific time periods mentioned celebrities or the entertainment industry more broadly, while 14% referenced personal stories or narratives. A smaller share of these tweets (7%) mentioned politics or specific politicians. (The high-volume time periods in this analysis do not necessarily correspond with the above graphic. An individual tweet could mention one or more of these topics, and the tweets that mentioned multiple topics were counted in each relevant category. See methodology for more details on this analysis.)
3A majority of #MeToo tweets in high-volume periods have been in English, but interest spanned multiple languages. Roughly seven-in-ten #MeToo tweets (71%) over these five high-usage time periods were written in English. But the movement has sparked social media interest across the globe, and the analysis shows that 29% of the #MeToo tweets during these periods were written in another language, with Afrikaans (7% of the total), Somali (4%) and Spanish (3%) making up the largest shares of the non-English tweets mentioning the hashtag over these time periods.
4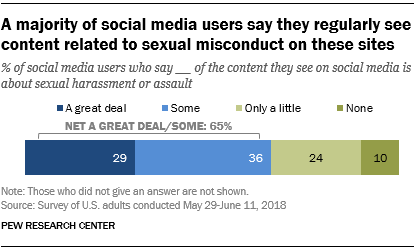 It's common for social media users in the U.S. to see content about sexual harassment or assault. Roughly two-thirds (65%) of U.S. adults who use social media say that at least some of the content they see on these platforms pertains to sexual harassment or assault. This includes 29% who say that a great deal of what they see on social media is focused on this issue, according to newly released data from a Pew Research Center survey conducted earlier this year. It is common for social media users from various demographic groups to encounter these types of posts. For example, men are as likely as women to report seeing at least some content related to sexual harassment or assault while using social media.
5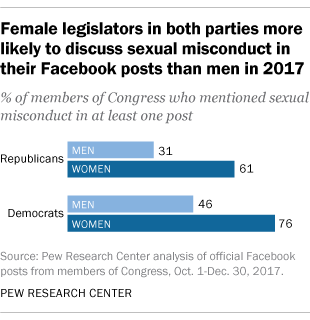 In the immediate aftermath of prominent sexual harassment allegations in 2017, some members of Congress addressed the issue on their official Facebook pages – but there was a large gender gap in doing so. More than four-in-ten members of Congress (44%) mentioned sexual misconduct in at least one post on their official Facebook accounts between Oct. 1 and Dec. 30, 2017, according to a previous Center analysis. Across both political parties, female legislators were far more likely than their male counterparts to raise the issue in their posts.
Note: See full topline results and methodology here (PDF).