The Senate Judiciary Committee is set to begin confirmation hearings on Brett Kavanaugh's nomination to the U.S. Supreme Court. If confirmed, Kavanaugh would replace Justice Anthony Kennedy, who retired in July after three decades on the court.
In a Pew Research Center survey just after Kavanaugh's nomination, Americans were divided: 41% said he should be confirmed, 36% said he should not and 23% offered no opinion. There was far more agreement over the importance of the selection itself: 83% of U.S. adults said the choice of the next Supreme Court justice is important to them personally, including 63% who said it is very important.
Ahead of the Senate's deliberations over Kavanaugh, here's a look at where the public stands on some of the major legal, political and social issues that could come before the justices in the years ahead, based on surveys conducted by Pew Research Center.
Abortion
The high court's 1973 decision in Roe v. Wade – which established a woman's constitutional right to an abortion– has loomed large over recent nominations to the court, and Kavanaugh's is no exception.
In the Center's July survey, 39% of Americans said they thought Kavanaugh would vote to overturn Roe v. Wade if he is confirmed. Smaller shares said he would not overturn the ruling (29%) or said it wouldn't matter or gave no opinion (32%). On a separate question, 61% said Supreme Court nominees should be required to answer senators' questions on issues like abortion during confirmation hearings.
There is little public support for a complete reversal of Roe v. Wade. In a survey from December 2016 – the last time the Center asked about it – around three-in-ten U.S. adults (28%) said they would like to see the Supreme Court completely overturn Roe v. Wade, but around seven-in-ten (69%) said they would not.
On a more general question about abortion that the Center asked in June 2017, around six-in-ten U.S. adults (57%) said abortion should be legal in all or most cases while 40% said it should be illegal in all or most cases. Public support for abortion rights has remained relatively steady in recent decades.
Americans' views about abortion differ markedly by their political and religious affiliation and educational background. Three-quarters of Democrats, for example, believe abortion should be legal in all or most cases, but around two-thirds of Republicans (65%) take the opposite view. Six-in-ten independents say abortion should be legal in all or most cases.
Death penalty
The Supreme Court often has the last word on whether individual executions in the United States can proceed or not, and the justices have ruled on several broad legal questions related to capital punishment since they effectively reinstated the death penalty in 1976.
Over the past two decades, public support for capital punishment has declined substantially in the U.S., as have death sentences and executions. But in the Center's most recent survey on the death penalty – conducted this past April and May – support was up slightly: A narrow majority of Americans (54%) said they favored the death penalty for people convicted of murder, up from 49% in 2016. Partisans were sharply divided: Around three-quarters of Republicans (77%) supported the death penalty for those convicted of murder, while a majority of Democrats (59%) opposed it. Independents were more inclined to support the death penalty than oppose it (52% versus 40%).
Elections
Recent Supreme Court decisions on subjects including redistricting, voting rights and campaign finance have shaped the way American elections are carried out. A major Pew Research Center report earlier this year explored how Americans see various aspects of their electoral system.
The study found broad public agreement over the importance of certain issues related to voting. For example, two-thirds of Americans (67%) said it is very important for U.S. elections that no ineligible voters are permitted to vote. Around seven-in-ten (72%) said it is very important that congressional districts are fairly drawn, and more than eight-in-ten (83%) said it is very important that no eligible voters are denied the vote.
But Americans are skeptical about whether these goals are being achieved in practice, the survey found. Around three-in-ten U.S. adults (29%) said either of the following two statements – "no eligible voters are prevented from voting" and "no ineligible voters are permitted to vote" – describe the country's elections very well. And only 12% said the statement "the way congressional voting districts are determined is fair and reasonable" describes U.S. elections very well.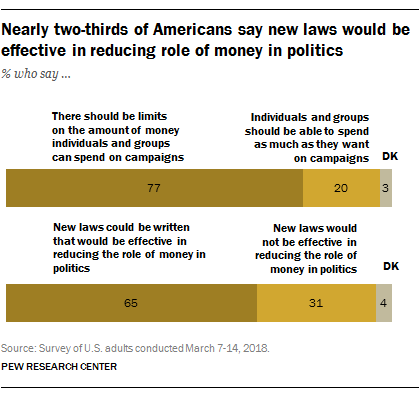 The same report found that Americans overwhelmingly support limits on campaign contributions and believe new laws could reduce the role of money in politics. Around three-quarters of U.S. adults (77%) said there should be limits on the amount of money that individuals and groups can spend on political campaigns, while 20% said individuals and groups should be able to spend as much as they want. And around two-thirds of Americans (65%) said new laws could be written to effectively reduce the role of money in politics, while 31% said such laws would not be effective.
Gun rights
In a pair of groundbreaking cases in 2008 and 2010, the Supreme Court ruled that the Second Amendment to the U.S. Constitution guarantees an individual right to bear arms and that state and local governments cannot violate that right. The two rulings have underpinned recent debates over gun policy proposals in Congress and in state legislatures.
The U.S. public is narrowly divided over whether it's more important to control gun ownership or protect the right of Americans to own guns. In a 2017 survey, 51% said it was more important to control gun ownership, while 47% said protecting the right to own guns is more important. There were wide partisan differences on this question, with Republicans and Republican-leaning independents more than three times as likely as Democrats and Democratic leaners to say it's more important to protect the right to own guns. (Explore long-term partisan and demographic trends on this question using this interactive.)
Some gun policy ideas receive broad support from Democrats and Republicans alike, according to surveys conducted in 2017. For example, nearly nine-in-ten Democrats and Democratic-leaning independents (89%) – and the same share of Republicans and GOP leaners – said they strongly or somewhat favor preventing mentally ill people from purchasing firearms. And at least eight-in-ten adults in both groups said they favor preventing people on no-fly or watch lists from buying guns (85% among Democrats, 82% among Republicans).
But many other commonly proposed ideas drew sharp partisan differences. Eight-in-ten Democrats favored a ban on assault-style weapons, compared with 54% of Republicans. A similar share of Democrats (79%) supported a ban on high-capacity magazines, compared with 47% of Republicans. And while clear majorities of Republicans supported proposals to allow concealed carry in more places and to allow teachers and other officials to carry guns in K-12 schools (72% and 69%, respectively), those proposals were backed by just 26% of Democrats.
Labor unions
One of the biggest cases of the Supreme Court's most recent term involved public employee labor unions. In a 5-4 decision, the justices ruled that public-sector workers who are represented by unions – but are not members of them – cannot be required to pay fees that cover the costs of the union's contract negotiations. The decision overturned a 1977 high court ruling and was seen as a major setback for unions.
Union membership in the U.S. has declined substantially in recent decades: The share of wage and salaried workers who are members of unions declined from 20.1% in 1983 to 10.7% in 2017, according to the Bureau of Labor Statistics.
When it comes to public opinion, Americans generally have a favorable view of unions and believe that the long-term decline in their membership has been more of a bad thing than a good thing.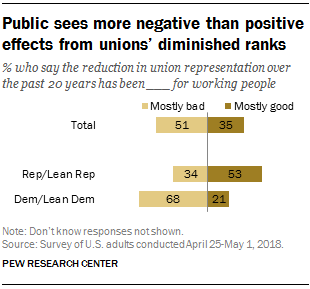 A 55% majority of U.S. adults said earlier this year that they view labor unions favorably, compared with a third who viewed them unfavorably. These views have fluctuated over the past two decades, but are now more positive than they were during the Great Recession. In the same survey, around half of Americans (51%) said the reduction in union representation over the past 20 years has been mostly bad for working people, while around a third (35%) said it has been mostly good.
Same-sex marriage
The justices effectively legalized same-sex marriage nationwide in a major 2015 ruling. But even before the decision, public opinion had turned in favor of gay marriage. In the Center's most recent survey on the question – conducted in June 2017 – 62% of Americans said they favored allowing gays and lesbians to marry legally, about twice the share who opposed it (32%). As recently as 2010, a larger share of Americans had opposed than favored allowing gay and lesbian people to marry legally (48% vs. 42%).