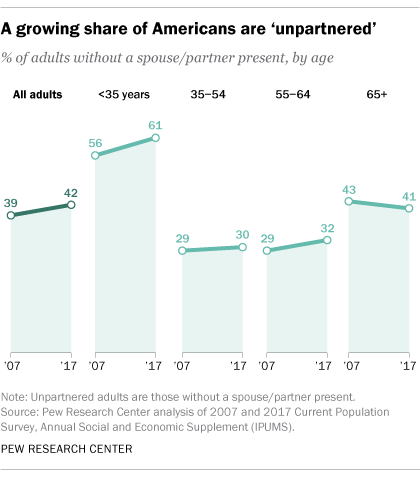 In the past 10 years, the share of U.S. adults living without a spouse or partner has climbed to 42%, up from 39% in 2007, when the Census Bureau began collecting detailed data on cohabitation.
Two important demographic trends have influenced this phenomenon. The share of adults who are married has fallen, while the share living with a romantic partner has grown. However, the increase in cohabitation has not been large enough to offset the decline in marriage, giving way to the rise in the number of "unpartnered" Americans.
The share of adults who are unpartnered has increased across the young and middle-aged, but the rise has been most pronounced among young adults. Roughly six-in-ten adults younger than 35 (61%) are now living without a spouse or partner, up from 56% just 10 years ago.
The rise in adults living without a spouse or partner has also occurred against the backdrop of a third important demographic shift: the aging of American adults. Older adults (55 and older) are more likely to have a spouse or partner than younger adults. So it is surprising that the share of adults who are unpartnered has risen even though relatively more Americans are older.
Divorce has likely not contributed to the growing share of unpartnered adults over this short period. Though divorce statistics are complicated, many argue that the divorce rate has generally been stable or falling since the 1980s.
This trend has important implications for the economic well-being of U.S. adults, as research has shown the financial benefits of marriage and cohabitation. The median household income (adjusted for household size) for partnered adults, either married or cohabiting, is $86,000. By contrast, the median household income for unpartnered adults is roughly $61,000. In addition, unpartnered adults are about twice as likely as partnered adults to be living in poverty (17% versus 7%).
The rates of unpartnered Americans vary significantly by key demographics. Men (40%) are less likely than women (43%) to live without a spouse or partner. And adults with at least a bachelor's degree are significantly less likely to be unpartnered (31%) than less-educated adults (46%). White and Asian adults (37% of each group) are much less likely to be unpartnered than Hispanic (46%) and black (62%) adults.
Over the past decade, the share of adults who are unpartnered has risen more sharply among those who are not employed. In 2007, 46% of working-age adults without a job were not living with a spouse or partner. By 2017 that share had risen to 51%. Among employed working-age adults, the share who were unpartnered increased more modestly since 2007, from 36% to 38%.
This does not imply that lack of employment is a cause of people not having a partner. On one hand, surveys indicate that people say it's important for men to be economically successful to be good husbands or partners. On the other hand, a large body of economic literature shows that marriage causes husbands to be more successful on the job. It is possible that the lack of a partner provides less of a spur to obtain employment.
A narrow majority (56%) of unpartnered adults are the head of their household. Some 35% are living alone and 22% are living with others in the home (single parents would fall into this category). Nearly three-in-ten (28%) are living with a parent or grandparent, reflecting the fact that unpartnered adults are disproportionately young. An additional 16% have some other relationship to the head of the household (for example, a sibling or roommate).
Almost six-in-ten unpartnered adults (58%) have never been married. About a fifth of unpartnered adults (21%) are divorced, 14% are widowed, and the remainder are either separated or married without a spouse present in the household.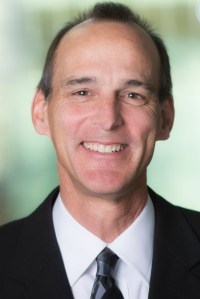 Richard Fry
is a senior researcher focusing on economics and education at Pew Research Center.