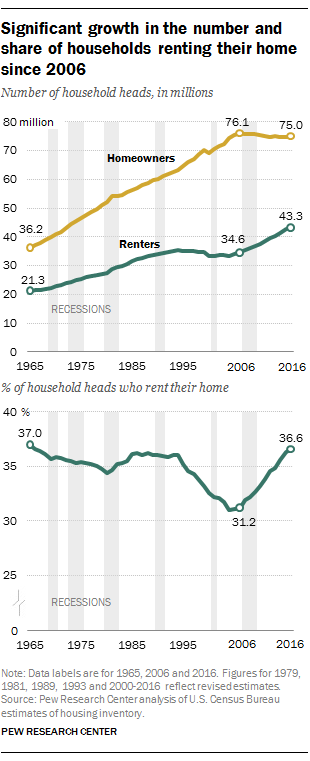 A decade after the housing bust upended the lives of millions of Americans, more U.S. households are headed by renters than at any point since at least 1965, according to a Pew Research Center analysis of Census Bureau housing data.
The total number of households in the United States grew by 7.6 million between 2006 and 2016. But over the same period, the number of households headed by owners remained relatively flat, in part because of the lingering effects of the housing crisis.
Meanwhile, the number of households renting their home increased significantly during that span, as did the share, which rose from 31.2% of households in 2006 to 36.6% in 2016. The current renting level exceeds the recent high of 36.2% set in 1986 and 1988 and approaches the rate of 37.0% in 1965.
Certain demographic groups ­– such as young adults, nonwhites and the lesser educated – have historically been more likely to rent than others, and rental rates have increased among these groups over the past decade. However, rental rates have also increased among some groups that have traditionally been less likely to rent, including whites and middle-aged adults.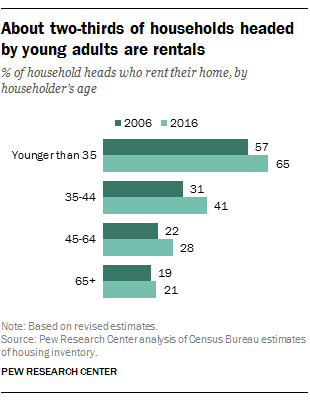 Young adults – those younger than 35 – continue to be the most likely of all age groups to rent. In 2016, 65% of households headed by people younger than 35 were renting, up from 57% in 2006. Rental rates have also risen notably among those ages 35 to 44. In 2016, about four-in-ten (41%) households headed by someone in this age range were renting, up from 31% in 2006.
Rental rates also went up among households headed by someone ages 45 to 64, rising from 22% of households in 2006 to 28% in 2016. But among the oldest Americans – those 65 or older – the rental rate remained steady at around 20%.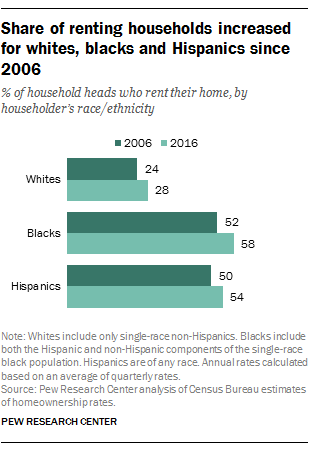 Black and Hispanic households continue to be about twice as likely as white households to rent their homes. In 2016, 58% of black household heads and 54% of Hispanic household heads were renting their homes, compared with 28% of whites. But all major racial and ethnic groups were more likely to rent in 2016 than a decade earlier.
The movement toward renting has also occurred across all levels of educational attainment. From 2006 to 2016, rental rates increased among households headed by someone with less than a high school degree, as well as among those headed by a college graduate.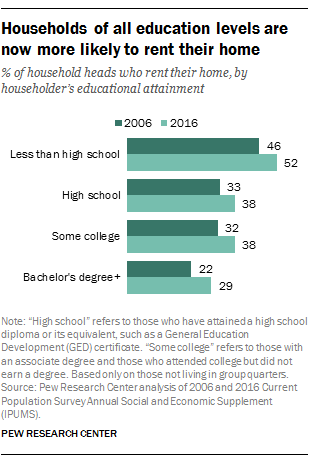 Even so, college graduates are the least likely group to be renters. In 2016, 29% of college-educated household heads were renters, compared with 38% of household heads with a high school degree only or some college experience and 52% of household heads who did not finish high school.
The increase in U.S. renters over the past decade does not necessarily mean that homeownership is undesirable to today's renters. Indeed, in a 2016 Pew Research Center survey, 72% of renters said they would like to buy a house at some point. About two-thirds of renters in the same survey (65%) said they currently rent as a result of circumstances, compared with 32% who said they rent as a matter of choice. When asked about the specific reasons why they rent, a majority of renters, especially nonwhites, cited financial reasons.
Anthony Cilluffo
is a former research analyst who focused on social and demographic trends at Pew Research Center.
A.W. Geiger
is a former associate digital producer and writer for Pew Research Center.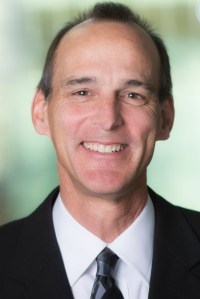 Richard Fry
is a senior researcher focusing on economics and education at Pew Research Center.