The analysis in this report is based on web- and IVR-completed interviews conducted March 2-25, 2021, among a national sample of 1,332 adults, 18 years of age or older, living in the United States (1,250 respondents were interviewed via web, and 82 were interviewed via IVR). The survey was conducted under the direction of SSRS. A sample of 10,000 residential addresses was drawn from the United States Postal Service Computerized Delivery Sequence File (CDS).
Sampled addresses were sent a priority mail envelope with an invitation to complete the survey, $2, and a brochure that explained the mission of the Center and importance of participation. The invitation requested that the adult (18 years old or older) with the next birthday complete the survey via web (and receive an additional $15) or call a toll-free telephone number and complete via IVR (receiving an additional $10). Mail materials and the survey itself was limited to English.
Weights were not used for this study. All addresses had an equal probability of selection, so base weights were not required. Moreover, all analyses sought to draw conclusions about the sample itself. Weights are required to make inference from the survey respondents to the population as a whole. Given that no such inference was made, weights were not required.
The following table shows the sample sizes and final distributions of each sampled address: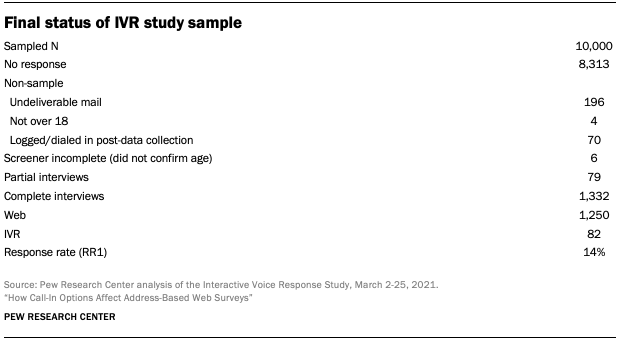 All sampled addresses are included in the dataset, regardless of interview status, to facilitate methodological research.