The share of U.S. adults who say they use certain online platforms or apps is statistically unchanged from where it stood in early 2018 despite a long stretch of controversies over privacy, fake news and censorship on social media, according to a new Pew Research Center survey conducted Jan. 8 to Feb. 7, 2019.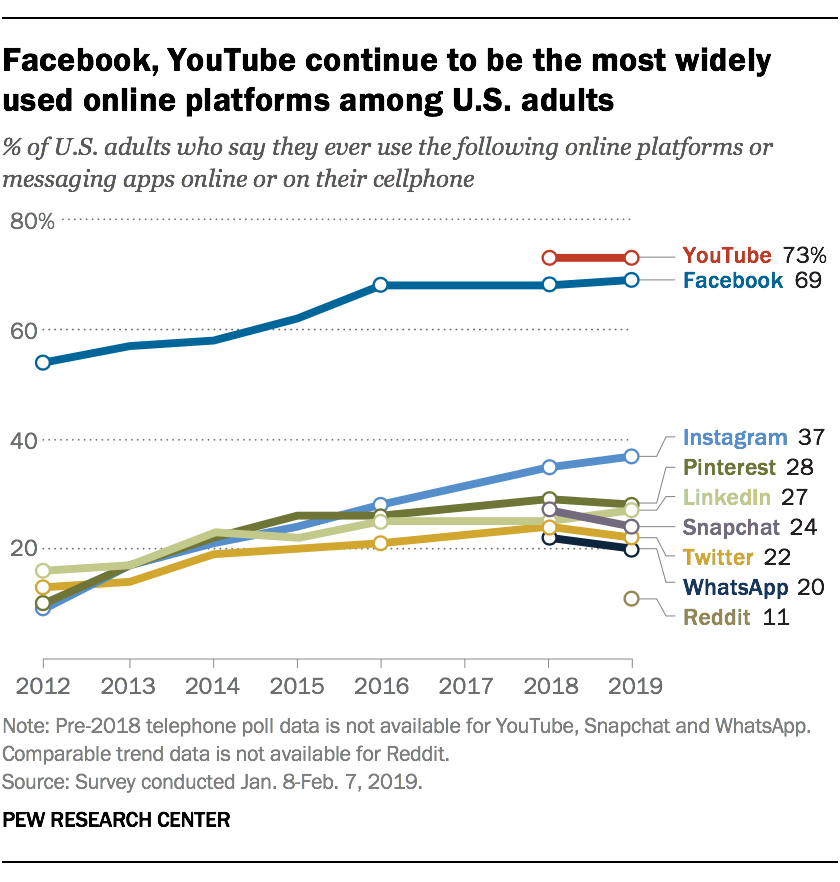 More broadly, the steady growth in adoption that social platforms have experienced in the United States over the past decade also appears to be slowing. The shares of adults who say they use Facebook, Pinterest, LinkedIn and Twitter are each largely the same as in 2016, with only Instagram showing an uptick in use during this time period. (There are no comparable 2016 phone survey data for YouTube, Snapchat, WhatsApp or Reddit.)
Facebook – which recently celebrated its 15th anniversary – remains one of the most widely used social media sites among adults in the U.S. Roughly seven-in-ten adults (69%) say they ever use the platform. (A separate 2018 Center survey showed Facebook use among U.S. teens had dropped in recent years.) YouTube is the only other online platform measured that matches Facebook's reach: 73% of adults report using the video sharing site. But certain online platforms, most notably Instagram and Snapchat, have an especially strong following among young adults.