Spaniards head to the polls on Sunday for Spain's fourth election in as many years. The election comes as the Spanish public is especially pessimistic, harbors strong doubts about democracy, and is concerned about inequality, their children's financial future and the availability of well-paying jobs. That said, overall sentiment about the economy has rebounded in recent years and is the most positive it has been in over a decade.
Below are five facts about public opinion in Spain based on a survey conducted from June 4 to July 22, 2019, among 1,069 adults.
1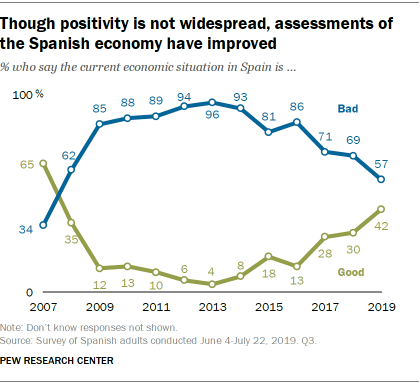 Most Spaniards are discontent with the state of their country's economy, but less so than in the past. Roughly four-in-ten (42%) say they think the economic situation in Spain is at least somewhat good, while a majority (57%) says it is bad. This is an improvement from last year, and it also represents substantial improvement since 2013, when the share who thought the Spanish economy was good was only 4%. It also shows Spaniards' optimism about the economy rebounding toward pre-recession levels.