The recent decision by Ecuador's highest court to legalize same-sex marriage makes it the fifth nation in Latin America to do so. The ruling in Ecuador comes less than a month after Taiwan's parliament passed legislation legalizing same-sex marriage, making the island nation the first country in Asia to permit gays and lesbians to wed. And both developments come on the heels of Austria's move on Jan. 1, 2019, to allow same-sex couples there to marry.
These events follow a number of other high-profile victories in recent years for gay marriage advocates, including decisions in 2017 by Australia, Germany and the Mediterranean island nation of Malta to allow gays and lesbians to wed.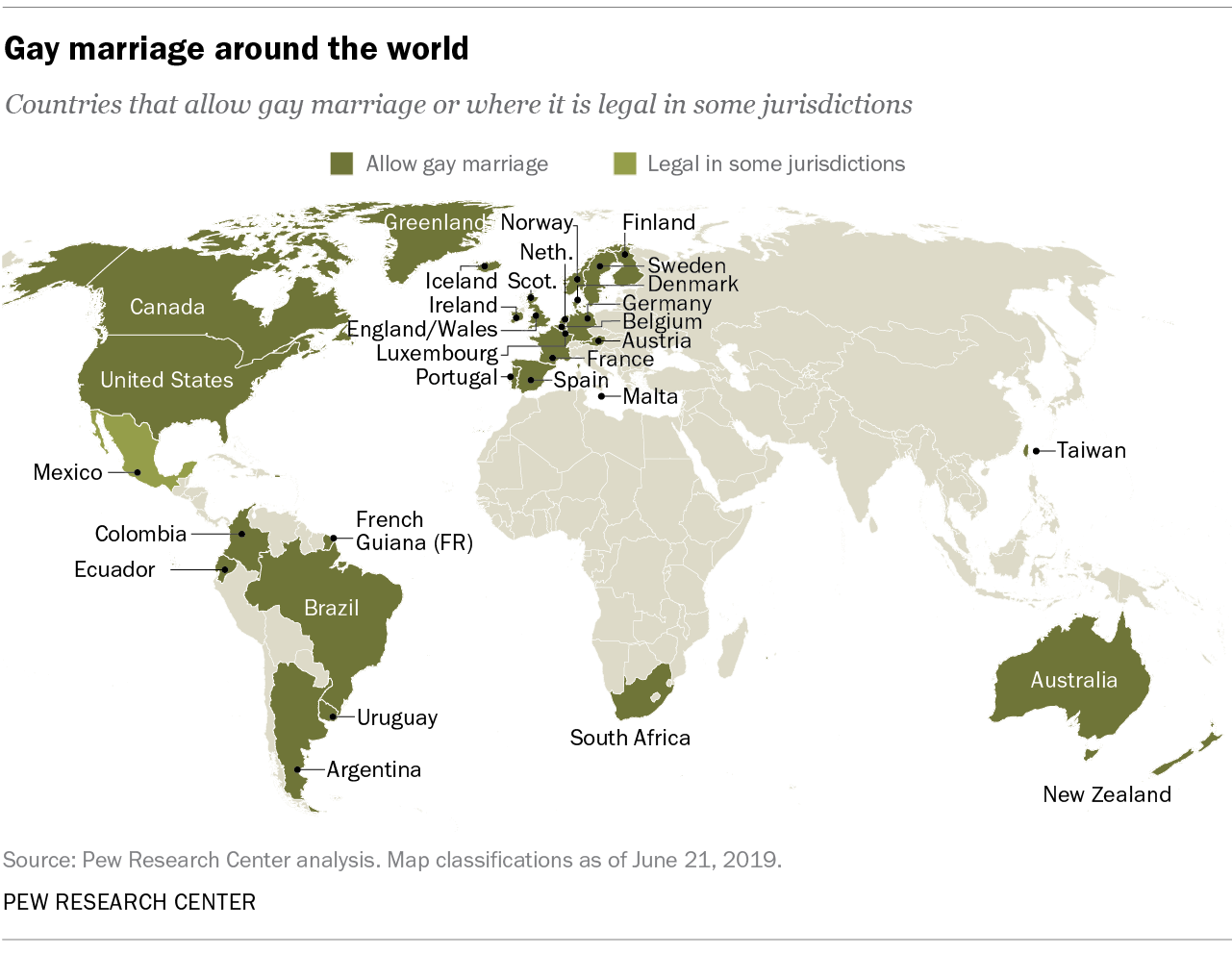 In a number of countries that have recently legalized same-sex marriage, the impetus for legal change came through the courts. For example, the May 17 vote in Taiwan's Legislative Yuan (the official name of the nation's unicameral parliament) was prompted by a 2017 decision by the country's Constitutional Court, which struck down a law defining marriage as a union between a man and woman. Likewise, Austria's legalization of gay marriage at the beginning of 2019 came after a 2017 ruling by the country's Constitutional Court. In the United States, the Supreme Court legalized gay marriage nationwide in a 2015 ruling.
Explore our fact sheet to learn more about same-sex laws around the world.
Worldwide, most of the countries that allow gay marriage are in Western Europe. Still, a number of Western European nations, including Italy and Switzerland, do not allow same-sex unions. And, so far, no countries in Central and Eastern Europe have legalized gay marriage.
Along with New Zealand and Australia, Taiwan is one of only three nations in the Asia-Pacific region that has legalized same-sex unions. In Africa, only South Africa allows gays and lesbians to wed, which became legal in 2006.
In the Americas, five countries besides Ecuador and the U.S. – Argentina, Brazil, Canada, Colombia and Uruguay – have legalized gay marriage. In addition, some jurisdictions in Mexico allow same-sex couples to wed.
Note: This is an update of a post originally published on June 4, 2013.