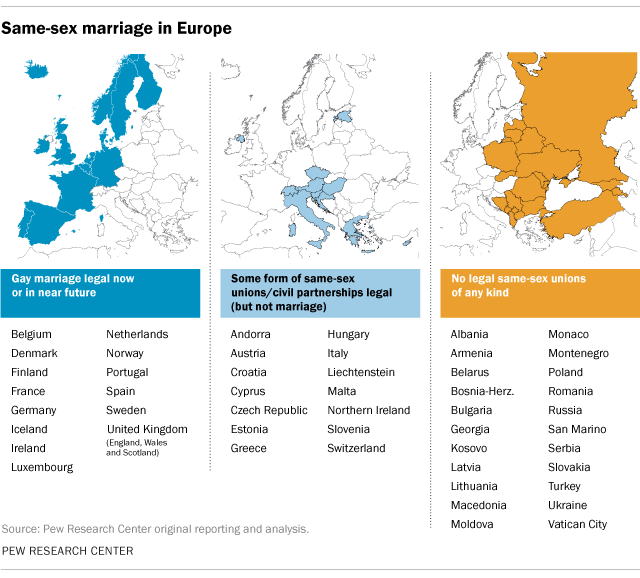 More than 16 years after the Netherlands became the world's first country to allow same-sex marriage, neighboring Germany has become the latest European nation to legalize the practice. On June 30, the country's parliament, by a vote of 393 to 226, passed legislation that will allow gays and lesbians to wed.
Germany, the largest country in Western Europe by population, becomes the 15th European nation to change its laws to allow gay marriage. This number counts England and Wales as one country and Scotland as a separate entity, since those parts of the United Kingdom passed two separate pieces of legislation on same-sex marriage. Northern Ireland, the other UK constituent state, has not legalized such marriages.
A more prominent exception in Western Europe is Italy, which has historical ties to the Roman Catholic Church. In spite of these ties, Italy began recognizing same-sex civil unions in 2016.
None of the Central and Eastern European countries allow gay marriage, and a recent Pew Research Center survey of 18 countries in the region found that public opinion is broadly opposed to the practice. Just 5% of Russians and 9% of Ukrainians, for example, say they favor allowing same-sex marriage. Figures in Poland (32%) and Hungary (27%) are higher, though people who support same-sex marriage remain in the minority. The Czech Republic is the only country in Central and Eastern Europe where a majority of adults (65%) support gay marriage.
While the Czech Republic does not allow same-sex marriage, it does recognize civil unions, along with Austria, Croatia, Estonia, Hungary and several other European countries. Greece joined this list in late 2015 when it agreed to begin recognizing same-sex civil partnerships despite opposition from the Greek Orthodox Church. Slovenia also allows civil unions, but its voters rejected a 2015 referendum that would have legalized full same-sex marriage. (Ireland, on the other hand, became the world's first country to approve same-sex marriage by popular vote in 2015.)
Most of the approximately two dozen countries around the world that allow same-sex marriage are in Europe, although Taiwan may soon become the first Asian place to join the list.
Note: This is an update of a post originally published June 9, 2015.