Americans inhabited different information environments, with wide gaps in how they viewed the election and COVID-19.
This story, plus a look at how Spotify decided to pivot to podcasting, Condé Nast posts first profit in years and more, all in today's media headlines.
GET THE DAILY BRIEFING BY EMAIL
The percentage of Americans following news of the pandemic very closely has slipped to its lowest level since the beginning of the outbreak.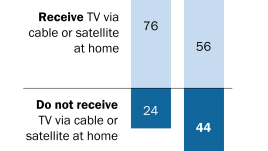 The share of Americans who say they watch television via cable or satellite has plunged from 76% in 2015 to 56% this year.