Even before recent revelations, U.S. Catholics gave Pope Francis declining ratings on sex abuse scandal
The long-simmering Catholic Church sex abuse scandal has been back in the headlines following new allegations against Theodore McCarrick, the former archbishop of Washington, D.C., who resigned from the College of Cardinals last weekend. Pope Francis accepted the resignation — reportedly making McCarrick the first cardinal in church history to resign over allegations of sexual abuse. In addition, some church officials have been accused of having long known about at least some of the allegations against McCarrick.
Even before news stories about McCarrick came to light in recent weeks, U.S. Catholics were increasingly unhappy with the church's handling of the sex abuse scandal. A January 2018 Pew Research Center survey found that just 45% of U.S. Catholics said Pope Francis is doing an "excellent" (13%) or "good" (33%) job addressing the crisis, down from 55% who said this in 2015, the last time the question was asked. The same recent survey also found that 46% of American Catholics said he is doing only a "fair" (27%) or "poor" (19%) job handling the sex abuse scandal, up from 34% three years prior.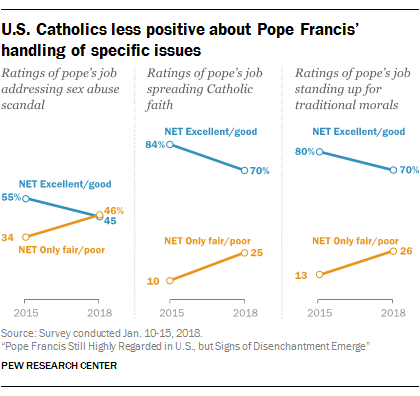 The 2018 survey was conducted just days before Pope Francis' January trip to South America, which included a stop in Chile, where questions also have been raised about the church's handling of widespread sex abuse allegations there.
The survey also found that U.S. Catholics' ratings of Pope Francis had become less positive on some other issues, including spreading the Catholic faith and standing up for traditional morals. But seven-in-ten still said he was doing an excellent or good job in these areas. And an overwhelming majority (84%) expressed a favorable opinion of the pope overall, roughly unchanged in recent years.
U.S. Catholics have long viewed addressing the sex abuse scandal as a particularly high priority. A survey conducted immediately after Francis' 2013 election found that 70% said this should rank as "a top priority" for the new pope, compared with far fewer who said the same about standing up for traditional moral values (49%) and spreading the Catholic faith (39%).
Francis' declining rating on the sex abuse scandal mirrors a pattern seen during the papacy of his immediate predecessor, Benedict XVI. By the time of Benedict's retirement, in February 2013, just a third of American Catholics who were following the news of his resignation (33%) rated his handling of the issue as excellent or good – down from roughly half (49%) who held this view five years earlier.
Michael Lipka is an editorial manager of religion research at Pew Research Center.