Millennials are the most likely generation of Americans to use public libraries
Millennials in America are more likely to have visited a public library in the past year than any other adult generation.
A new analysis of Pew Research Center survey data from fall 2016 finds that 53% of Millennials (those ages 18 to 35 at the time) say they used a library or bookmobile in the previous 12 months. That compares with 45% of Gen Xers, 43% of Baby Boomers and 36% of those in the Silent Generation. (It is worth noting that the question wording specifically focused on use of public libraries, not on-campus academic libraries.)
All told, 46% of adults ages 18 and older say they used a public library or bookmobile in the previous 12 months – a share that is broadly consistent with Pew Research Center findings in recent years.
Members of the youngest adult generation are also more likely than their elders to have used library websites. About four-in-ten Millennials (41%) used a library website in the past 12 months, compared with 24% of Boomers. In all, 31% of adults used a library website in the past 12 months, which is similar to the percentage that reported using library websites in late 2015.
Relatively high library use by Millennials might be related to changes that many public libraries have undergone in the past 20 years. Previous Pew Research Center surveys have documented how extensively people use computers and internet connections at libraries, as well as how interested they are in extra services such as literacy programs for young children, meeting spaces for community groups, and technology "petting zoos" that provide opportunities to explore 3-D printers and other tech gadgetry.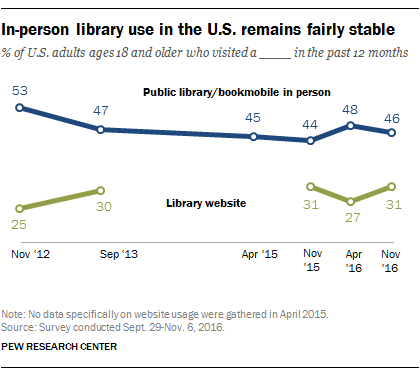 Across all generations, use of public library mobile apps is less common than use of libraries and their websites. The survey found that just 8% of Millennials used a library app in the past 12 months, as did 9% of Gen Xers and 9% of Boomers.
Beyond demonstrating generational differences in library use, the survey showed other demographic differences in library use. For instance:
Women are more likely than men to say they visited a public library or bookmobile in the past 12 months (54% vs. 39%). And women are similarly more likely to use library websites (37% vs. 24%).
College graduates are more likely than those whose education ended with a high school diploma to use libraries or bookmobiles in the past 12 months (56% vs. 40%). And a similar gap applies to use of library websites.
Parents of minor children are more likely than non-parents to have used a library in the past 12 months (54% vs. 43%).
Read more about Americans' specific engagement with libraries and library resources in a 2016 Pew Research Center report.
Note: This report was made possible by The Pew Charitable Trusts, which received support for the project through a grant from the Bill & Melinda Gates Foundation. The findings and conclusions contained within are those of the authors and do not necessarily reflect positions or policies of the Bill & Melinda Gates Foundation.
Related posts:
Most Americans – especially Millennials – say libraries can help them find reliable, trustworthy information
Who doesn't read books in America?
Topics: Millennials, Technology Adoption, Libraries, Generations and Age
Abigail Geiger is an associate digital producer and writer for Pew Research Center.