The changing face of Congress in 5 charts
The 115th Congress took office in January and set to work on an agenda that includes confirming President Donald Trump's Cabinet nominees, addressing illegal immigration and repealing and replacing the 2010 health care law signed by Barack Obama. Republicans now control both chambers of Congress and the White House for the first time since 2007, when George W. Bush was president.
Apart from its political makeup and policy objectives, the new Congress differs from prior ones in other ways, including its demographics. Here are five charts that show how Congress has changed over the long term, using historical data from CQ Roll Call, the Brookings Institution, the Congressional Research Service and other sources.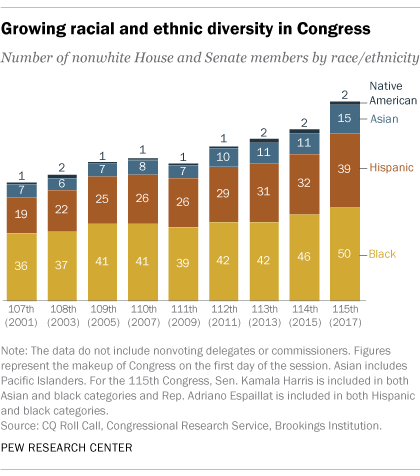 1The current Congress is the most racially and ethnically diverse ever. Nonwhites – including blacks, Hispanics, Asians/Pacific Islanders and Native Americans – now account for 19% of Congress (and 34% of its freshman class). When the 79th Congress took office in 1945, nonwhites represented just 1% of the House and Senate. While racial diversity on Capitol Hill has been growing, Congress still lags behind the nation as a whole, which is 38% nonwhite – twice the share of Congress. Racial diversity also differs significantly by chamber: The House is 22% nonwhite, while minorities make up 10% of the Senate. 
2The share of women in Congress has reached an all-time high. Nearly a century after Montana Republican Jeannette Rankin became the first female member of Congress, women now hold 104 seats, or about one-in-five overall (19%), tying the record set by the 114th Congress.
The Senate now has more women than ever (21), and in three states – California, New Hampshire and Washington – both senators are women. These gains have been relatively recent, however. While the House has seen slow but steady growth in the number of female members since the 1920s, the Senate did not have more than two women until 1993, when the 103rd Congress took office. And the share of women in Congress remains far below the share of women in the country as a whole (51%).
3Today, far fewer members of Congress have direct military experience. In the current Congress, 20% of senators and 19% of representatives have served in the military at some point in their careers.
That's a dramatic decrease since the late 20th century. Between 1965 and 1975, at least 70% of each legislative chamber had military experience.  The share of members with military experience peaked at 75% in 1967 for the House and at 81% in 1975 for the Senate.
While relatively few members of Congress have military experience, an even smaller share of Americans do. In 2014, just 8% of U.S. adults had military experience; in 1980, 18% did.
4Nearly all members of Congress now have college degrees. In the 115th Congress, 95% of House members and 100% of senators have received a four-year degree or higher.
In the 79th Congress (1945-1947), by comparison, 56% of House members and 75% of senators had degrees. The share of representatives and senators with college degrees has steadily increased over time.
The educational attainment of Congress members far outpaces that of the overall U.S. population. In 2015, just 33% of American adults ages 25 and older said they had completed a bachelor's degree or more, according to the U.S. Census Bureau.
5While Congress remains overwhelmingly Christian, the share of Catholics has grown while the share of Protestants has declined. Catholics now make up 31% of Congress, up from 19% in 1961. Protestants, on the other hand, have fallen from 75% in 1961 to 56% today. In the current Congress, there are 168 Catholics (144 in the House and 24 in the Senate) and 299 Protestants (241 in the House and 58 in the Senate).
Congressional religious affiliation generally reflects the overall U.S. population, although far more Americans identify as "unaffiliated" than do Congress members (23% v. 0.2%). In 2014, 48% of Americans identified as Protestant, while 21% identified as Catholic.
This post has been updated to include information on the U.S. population as a whole. 
Topics: Congress, Educational Attainment, Federal Government, Gender, Education, Military and Veterans, Demographics, Race and Ethnicity
Abigail Geiger is an associate digital producer and writer for Pew Research Center.